Wallet returned after 18 years!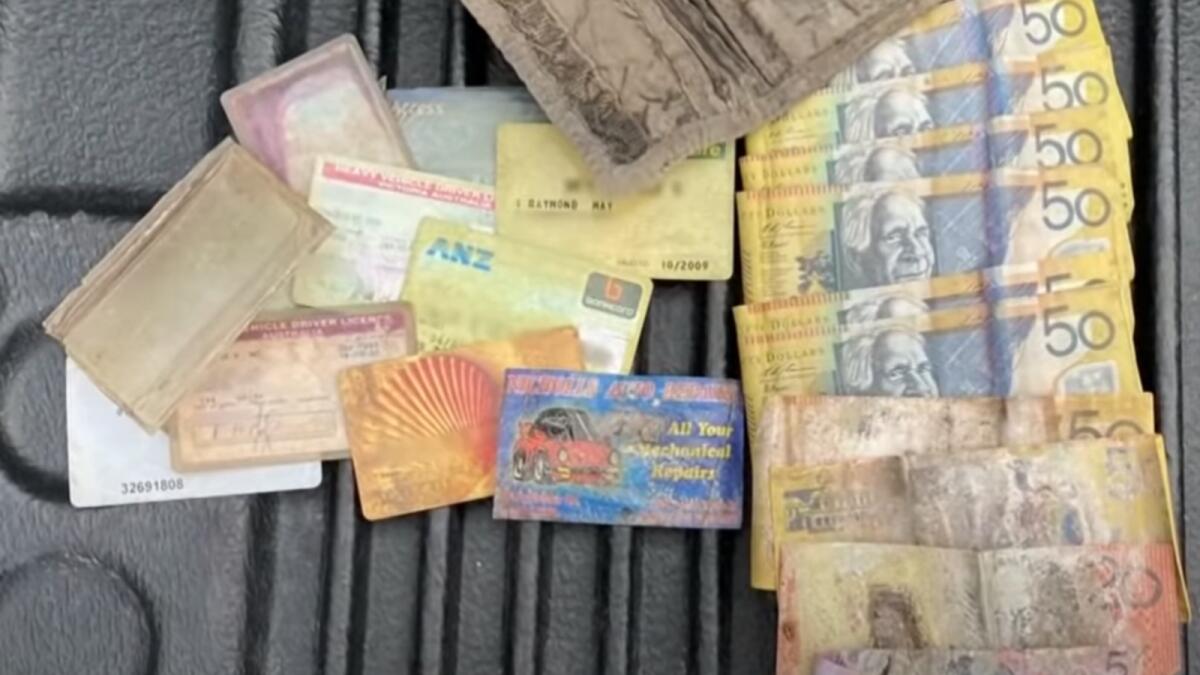 If you've ever lost your wallet, you know it's a stressful situation. You search high and low, and at some time you need to face facts it's not coming back.
Let us take you back to 2004, where an earthworks excavator operator from Rosebud lost his wallet whilst levelling out a residential block in Sorrento. Realising the wallet contained all his ID and a considerable amount of cash ($425), he spent hours digging up the ground in search of it but was unsuccessful. All hope was lost.
Fast forward to 2022 and the property owner had more earthworks done on the block. Early morning, after two days of heavy rain, the property owner was scratching about the garden and located a badly soil and weather damaged wallet just under the ground surface.
The property owner took the wallet down to Sorrento Police Station. Police located the owner, who now lives in Yarrawonga, and returned the property.
The owner Ray May, 68, said that he and his son Rodney searched for it for weeks after he lost it.
Mr May said when he got a phone call from the sergeant at Sorrento he thought he was having a 'lend' of him.
"He said 'You're probably going to get a laugh out of this but did you lose a wallet a while ago?' And it was fair dinkum then. After 18 years, it turned up," Mr May said.
While the wallet was irreparably decayed, and driver's licence and bankcards well and truly expired, most of the money was still in good order after being buried in the ground for 18 years.
Mr May offered to use some of the money as a reward to the man who found it and said he would spend the rest on a nice meal or two.
From Halifax to OZ!
Editor's note: I can personally assure readers this is not a one off. There are many good Samaritans out there.
Like many, I also have unfortunately lost my wallet. But unusually also had it magically returned sometime later. I was in Halifax, Nova Scotia Canada way back in August 1997.
I was 25 years old and enjoying travelling the world with my now wife. After a great day out seeing the sights of Halifax, I realised I had lost my wallet. Panic naturally set in and after many efforts to find it we eventually accepted I had lost it.
For those younger than me imagine this. There was little or no internet and no mobile phones, I lost my credit card, licences, Medicare card etc and of course some cash.
I quickly grabbed a pay phone, cancelled my credit card and ordered a new one to be delivered to a friend in London where we planned to stay with some weeks later.
Much to my surprise It was about six months later, while still in London, I had a call from my father saying he had received my wallet in the mail.
An American Sailor had picked it up on the same street where our hostel was in Halifax. Once he had time and after returning back to the US, he had used the money left in the wallet to post it back to my driver's licence address (which was my parents at the time). He left the receipt from the post office and the change in the wallet.
He also left a note stating when and where he had picked it up along with his name and occupation. We later worked out it would have been just under a half an hour before I went looking for it on that same street.
If you have a great story on something valuable, you have lost and sometime later it magically returned then let us know on the email; editor@yarrawongachronicle.com.au