Paddlewheeler reaches destination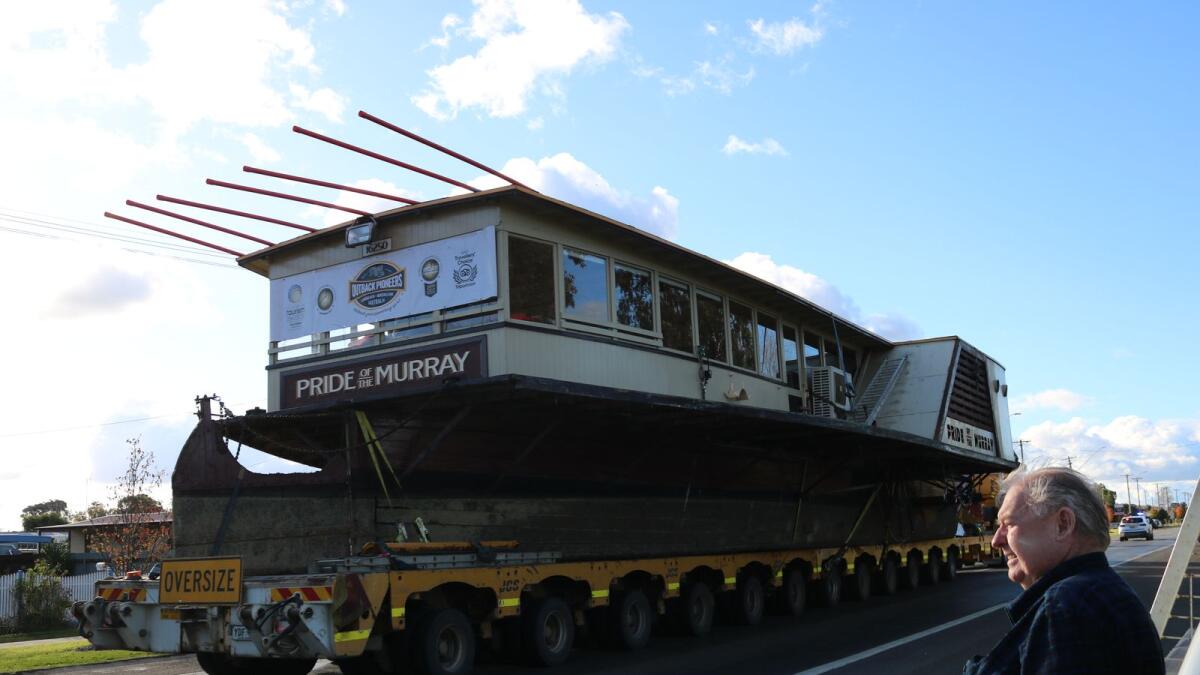 Hundred-year-old paddlewheeler Pride of the Murray has arrived at its new home of Longreach, Queensland, after it set off from Echuca on June 7.
The 1750km three-day journey required a team of 40 people to make everything go smoothly, including expert truck drivers, a police escort, and power workers to lift low-hanging lines.
The shift required a 26m long and 8.7m wide trailer, rated at 192 tonne, with a 700hp prime mover, and a police escort.
Before the boat was winched from the water the wheelhouse was removed because of height restrictions and placed on a separate truck to be transported to Longreach.
The remainder of the boat was then winched out of the water and laid across large inflatable bags before being placed on stands with the trailer than backed in underneath it and the boat gently lowered down.
The journey went off without a hitch, even as it made its way through tight squeezes on roundabouts and narrow bridges.
After restoration works it will sail again, this time on the Thomson River under the care of Longreach tourist attraction Outback Pioneers.
Outback Pioneers' Richard Kinnon said the Pride of the Murray would still be enjoyed by tourists and history lovers.
"When I found out the Pride of the Murray was looking for a new home, I knew I'd found a genuine outback pioneering artefact that we just had to preserve,'' Mr Kinnon said.
"We're passionate about educating people about Australia's proud pioneering history and once the paddlewheeler is recommissioned, 100 people a day will get to relive an authentic river experience.
"The incentive for me and the Kinnon family is millions of tourists will get to enjoy riding the Pride of the Murray on the Thomson River for another 100 years."
The journey was believed to be the largest haulage of a marine vessel this age to be undertaken in the Southern Hemisphere.
"It's an extremely delicate operation. The maximum speed of travel is 80km per hour and the route (was) specifically chosen because it's straight and has less obstructions."
Murray River Paddlesteamers owner Craig Burgess said the Pride of the Murray would be missed by staff and the community.
"It is always sad to see boats leaving the river, however, this is all a part of our long-term strategic plan," he said.