Olympian inspires young locals
Jock Landale, an Olympian with connections to Deniliquin, has helped to instil a sense of belief in students at Deniliquin South School.
The NBA basketballer, who was part of the bronze medal winning team in Tokyo last year, visited Deniliquin South School last week.
He talked to the students about his sporting career, the Olympics, and visiting his family in Deniliquin.
Deni South principal Liz Dudley said the 2.11m high sportsman impressed the students.
"The school greatly appreciates his generosity in making time, while home with his family, to visit with the students who went away from the experience believing in the possibility of achieving their dreams," she said.
"He spoke to the whole school about his connection to the Deniliquin area and his experiences playing sport internationally, before opening up the floor to questions from the students.
"They were extremely excited to meet one of their sporting heroes and grill him on how well he could slam dunk.
"He was so invested in listening to their stories and answering their questions, making time at the end for photos and autograph signing.
"During the Q&A, Jock was excited to learn that one of the South School sporting houses is named after his family's property 'Mundiwa'."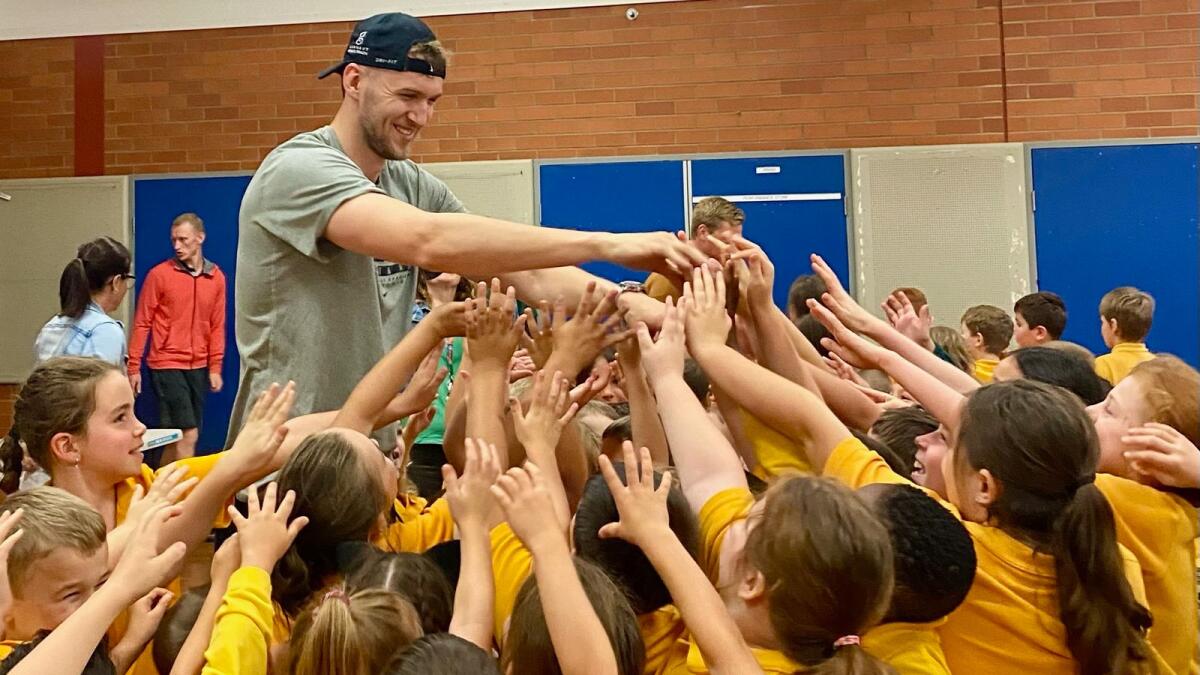 Jock is the son of Clive and Suellen Landale, and the grandson of Hunter and Peggy Landale.
Landale started his basketball career while at Geelong Grammar School, with an appearance in the Australian under-19s nationals team in a tournament in China in 2013 followed soon after by a scholarship to Californian college Saint Mary's.
After college he signed with the Atlanta Hawks for the Summer League, played in Europe and Serbian team KK Partizan before coming home to play in the NBL.
He was playing for Melbourne United when selected for the Boomers' Tokyo squad, but his dream to play for the NBA in the USA was realised when he was signed by the San Antonio Spurs this year.