Umpires share in Indigenous Round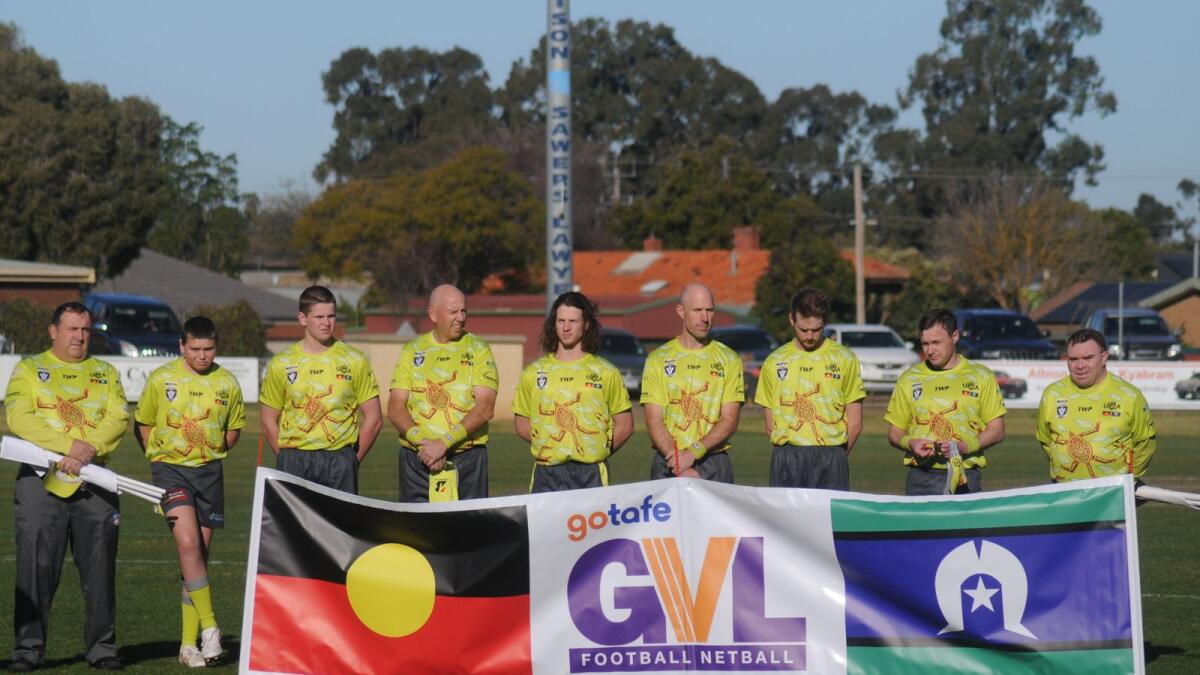 Indigenous artwork featuring the totem of the Yorta Yorta people was the centrepiece of Goulburn Valley Football Netball League's Indigenous round umpire's shirt during the weekend.
The unique piece, featuring the long-neck turtle, is titled Peace on the Lake and was created by Shepparton Indigenous artist Tahnee Day.
It is the first time that the Goulburn Valley Football Umpires Association has commissioned an artist to design a shirt for the celebrated round of football.
The weekend's round of GVL matches will not be the only occasion in which the decision makers wear the Indigenous-designed shirts. They will also wear them for the impending round of Kyabram district league matches, for that competition's Indigenous round.
While the GVL and KDL set aside specific rounds for the celebration, Murray league clubs are responsible for co-ordinating their own Indigenous celebrations.
AFL Goulburn Murray regional director of umpiring Andrew Moore said umpires would wear the Indigenous shirts to coincide with Murray league club celebrations.
"All of our umpires wore the shirts at the weekend in GVL games and on July 9 they will do the same for the KDL indigenous round," he said.
Mr Moore said the inaugural Indigenous shirt was realised through the close connection of umpire association member Greg James.
"He has a connection with Tahnee and together we were able to secure her services to complete the design," Mr Moore said.
He said the Peace on the Lake design reflected Tahnee's own experiences of watching the long-neck turtles swimming in Lake Victoria.
This is how she described the piece: "The leaves that are blown into the water provide protection for the turtles. The cross effect lines on the turtle's shell and on the gum leaves are portrayed in what is called a cross hatching style of painting, which is a specific style relevant to the Yorta Yorta Tribe, the traditional owners of the Goulburn Valley. The Long Neck Turtle is the Totem of the Yorta Yorta people."
Mr Moore said each game during the weekend was different, but up to nine umpires wore the shirts in some games.
At Kyabram's GV Creamery Oval three of the boundary umpires were Kyabram based, Luke Turpin, Adam Napier, Will Mitchell and field umpire Simon Walsh (ex-Kyabram) was also decked out in the new shirt.
Decorated footballer-cum umpire Jeff Turpin also wore the shirt while umpiring the Kyabram Under-18 match.
At Mooroopna the two field umpires, Drew Pettifer and Dylan Scoble, were also involved in the promotion of the round during their adjudication of the Mooroopna and Rochester game.