Rochester and district golf notes | May 17-24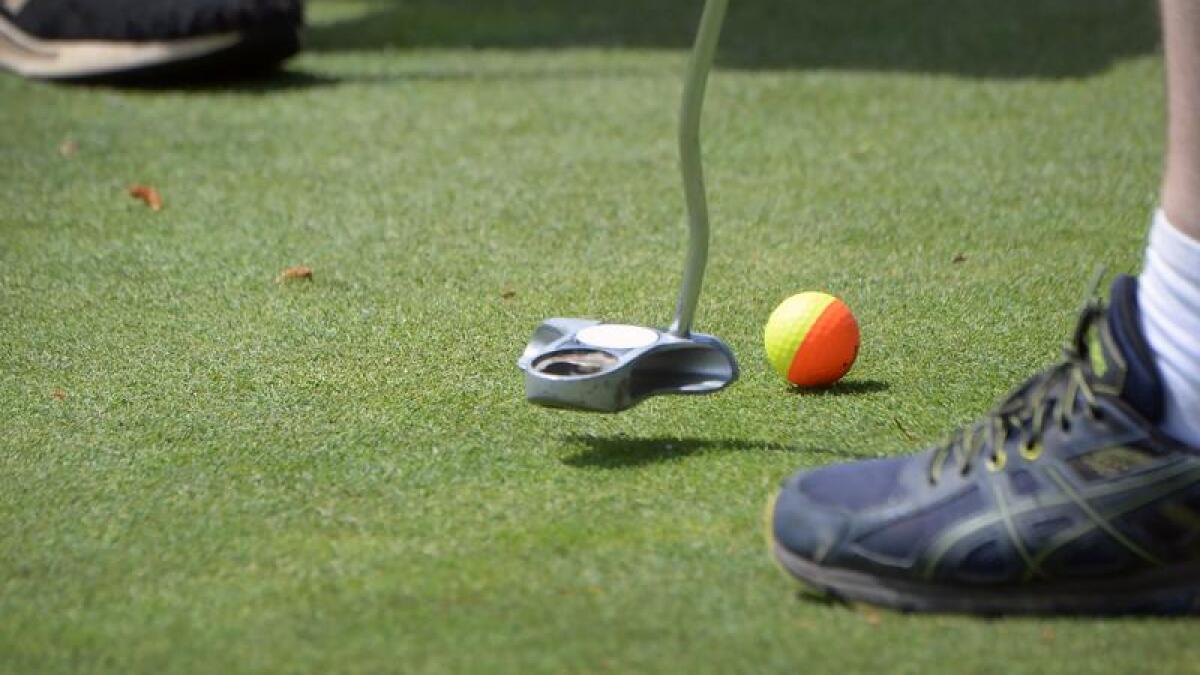 Rochester
Laurie Radley had the round of the season with a spectacular score of 44 stableford points off the short course.
Radley easily won last Saturday's event from Robert Vise on 40, with the next best being Ap Kuiper (39), president Leigh Hicks and Bruce Bryant (37) followed by Shane Bywaters on (36) and Lachie Wison (35).
Vise won nearest-the-pin on the 8th with a great shot to within one metre for an easy birdie, Hicks was closest to the pin for his second shot on 9, while Richard Feuk's drive on 10 finished on the line.
Bywaters and Feuk won the chocolates for their three under par 32 net 29 in last Wednesday's two-person ambrose event over the front nine, Robert Ralph and Chris Eeles were runners-up on net 32 3/4, while Hicks had the best shot on 3.
Golfers are reminded that from next Wednesday assembly is at 9am with hit-off at 9.30am sharp.
Julie Leahy won last Friday's ladies event with 33 stableford points, also taking out nearest-the-pin on 16.
Barb McCarty was runner-up on 30 points and won nearest-the-pin for her shot on five, and Jenny Major won balls for her shots on eight and 10.
Tuesday is the start of the club's annual tournament with the Ladies fourball followed by the Men's fourball on Friday, May 27.
The popular three-person ambrose (any combination) is on Saturday with our annual 27-hole Men's Championship on Sunday off the blue markers, while an 18-hole event will be played off the short course from the white markers.
Inquires to president Leigh Hicks on 0407 041 286 or ladies captain Karen Taylor on 0448 557 139.
With the course in great condition after many weeks of preparation, including all fairways being mowed at least twice a week, the club encourages all local golfers to come and enjoy one of the best sand scrapes in country Victoria.
Bamawm
Sunday, May 22
There was a good field turn up to compete in a stableford round on Sunday.
Winner of the day was Rick Connors with 35 points and the runner-up was Neville Vicary with 34 points on a countback from Daniel Bacon.
NTP 7/16: Noel Mitchell
NTP 2nd shot 4/13: Noel Mitchell
NTP 3rd shot 5/14: Kim Dingwall
Longest drive: Denise Newth (ladies), Jo Holloway (men)
Next Sunday is the first round of championships for men and ladies — the Handicap Matchplay Qualifying Round.
Campaspe
Our winner with 36 stableford points was Frank Broucek and the runner-up was Shane Bywaters with 32 points.
Broucek also had a day out getting nearest the pin on the 5th, and second shot nearest to the pin on the 7th. David Marshall got the straightest drive.
A great day of fun and friendship was had by all as we enjoyed the sunshine, with thanks to our visitors Kevin Burrow and Shane.
This week's event is stroke and secret 12.
Lockington
The Lockington Golf Club 2022 Annual Tournament concluded on Sunday after four days of golf, great weather, good company and an enjoyable time for all.
The event was generously supported by visitors who travelled from near and far, with players from 22 different clubs.
Tournaments can't run without sponsors, and the club is grateful for the generous support received.
There were many compliments received on the terrific condition of the course, a reflection of the hard work, time and effort put in by all those who have worked on the course.
Special thanks to all the members for the scrumptious food provided, as well as all those who worked in the office, the bar and the clubhouse, to make it such a successful week.
A number of golfers enjoyed multiple major wins over the tournament, including locals Sherryl Jones, Annette Brereton, Brett Stone and Jeff Carnie, as well as two Elmore players on the Sunday, Tyler Oliver and Ben Duncan.
Kevin Humbert ended up Division 1 winners with playing partner Paul Kuiper — a "wheely" good effort after a cart breakdown.
Thursday, May 19:
Ladies 4BBB was sponsored by The Carriages Vineyard and Boutique Accommodation, Rochester Bowen Therapy (Jon Watson), Rochester Sportspower, Lockington Community Hotel, and Cottam's Family Butchers.
Twenty-six players from 11 clubs represented.
Division 1 winners: S Jones and A Brereton 41 points; r/up – L Kingston and C Kelly (Rich River) 39.
Division 2 winners: B McCarty (Rochester) and J Holt 40; r/up – J James (Belvoir Park) and H Hayes 38.
Ball comp: M Kiel and J Drummond (Marong) 36, K Taylor and J Leahy (Rochester) 35.
Nearest-the-pins: 3rd – K Taylor (1.8m – best over the tournament – winner of Drummonds Golf voucher); 7th – M Kiel; 2nd shot 9th – K Taylor; 16th – C Pearce (Quarry Hill); 17th – C Kelly.
Friday, May 20:
Men's 4BBB was sponsored by Community Bank (Elmore, Lockington and Rochester).
It was great to have Community Bank Board member James Hodgens in attendance to hand over the sponsorship cheque and be involved in presentations.
Eighty players from 13 clubs represented.
Division 1 winners: – P Kuiper (Valley View) and K Humbert 43 points; r/up – B Spence (Bendigo) and T Thomas 42, c/b P Noble and G Harris, H Whittle and A Tanner (Elmore), M Miles (Mitiamo) and G Humbert.
Division 2 winners: G Campbell and S Perry (Rushworth) 46; r/up – T Carboon and A Campbell (Elmore) 44, c/b D West (Marong) and A Glatte.
Ball comp: 43 – B Rasmussen (Elmore) and R Brereton; 42 – R Quinn (Valley View) and D Carnie, F Broucek and L Radley (Campaspe); 41 – D White (Rochester) and G Milligan.
Nearest-the-pins: 3rd – R Feuk (Rochester); 7th – G Mackay (Valley View); 16th – G Campbell; 17th – G Harrison (Valley View); 2nd shot 18th – A Masters (Elmore).
Long Drive (sponsored by Hot 'n' Cold Plumbing): A Grade – M McAuliffe (Valley View); B Grade – D White; C Grade – T Scurrah.
Saturday, May 21:
Mixed American sponsored by Feedomatic, Giddings Co, Meat Matters Eaglehawk, Rochester Tyres and Batteries, Ciurleo's Ice Cream and Waffle House, and Drummond Golf Bendigo.
Twenty-six players from six clubs represented.
Scratch winner: S Jones (Rich River) and S Jones 77; Nett winners – R and A Brereton 82-16.5-65.5, c/b S and J Holt, H Hayes and JD Wright.
Ball comp: L Carnie (Murray Downs) and D Carnie 67, D and K Free (Lakeside, Lake Boga) 67.5, F and W Newlan (Marong) 68.
Nearest-the-pins
Ladies: 3rd – L Carnie; 7th – D Free; 16th – J Drummond (Marong); 17th – D Free.
Men: 3rd – M Newlan (Marong); 7th – K Humbert, 16th – S Holt; 17th – R Brereton; 2nd shot 18th – S and S Jones.
Sunday, May 22:
Men
Stroke and 36 holes open championship sponsored by Mark Lyons Fencing, Humbert Laserlevelling, Nichol Trading, Rochester Motorcycles, Ag Warehouse Rochester, Rochester Mitre 10, and Alfa Laval Lockington (Brett Stone).
Forty-six players from 11 clubs represented.
A-grade
Scratch and SJ Windridge perpetual trophy: J Wright (Rochester) 74-73=147; Nett – B Stone 72-71=143; 18 Holes AM – B Stone 77-5=72, c/b G Humbert, J Wright; 18 Holes PM – T Holt (Sandy Creek, SA) 77-7-70, c/b H Whittle (Elmore) 76-6=70.
B-grade
36 Holes Scratch: T Oliver (Elmore) 78-82=160; Nett B Duncan (Elmore) 71-67=138; 18 Holes Nett AM T Oliver 78-12-66; 18 Holes Nett PM B Duncan 82-15=67.
Veterans: J Carnie 74-68=142; LGC Members Best 18: J Carnie 86-18=68. 18 Holes PM event: B Wakefield 70, r/up – S Frawley (Rochester) 73.
Nearest the pins: 3rd – D Muhleisen; 7th – J Wright; 16th – M Scholes (Rich River); 17th – M Dennis; 2nd shot 18th – B Stone.
Long Drive: Division 1 – J Wright; Division 2 – B Newth (Bamawm); Division 3 – I Haines.
Ball comp: A-grade – H Whittle 145, G Humbert 146, M Whittle (Elmore) 146, R Haines (Latrobe) 148, A Kuiper (Mooroopna) 149. B-grade – J Carnie 142, S Holt 143, P Kuiper (Valley View) 144, L Brook (Elmore) 146, K Oliver 147, K Humbert 148.