GVL | Tigers left licking wounds after Echuca defeat
Rochester fell to its second defeat of the Goulburn Valley League season in a bruising encounter against arch-rival Echuca at Victoria Park.
After a bright start in the first half, injuries to a Tigers' quartet — including an MCL sustained by coach Steven Stroobants — saw the Murray Bombers take the ascendancy in a rain-soaked second half.
Rochester, trailing by just five points at half-time, could only muster one goal to Echuca's seven as the Murray Bombers ran away with a 12.9 (81) to 5.6 (36) victory, bringing the Tigers' five-game winning streak to an end.
Stroobants took heart from his side's first-half showing, but conceded the Tigers need a four-quarter performance against the top teams.
"I thought the first half we battled hard and put some pressure on, and we played the footy we want to play," Stroobants said.
"The second half we lost a few soldiers, and our skill execution started to hurt us a bit — we got a bit tired and couldn't maintain it for four quarters.
"We showed that we're up to it, it's just about keeping it up for those four quarters, which is the main thing."
Stroobants headlined Rochester's injury woes, with the Tigers' forward admitting he looks set to miss five to six weeks of football.
Hamish Hooppell and James McPhee each sustained hamstring injuries, while Charles Ward picked up a concussion to reduce Rochester's bench to zero by half-time.
Mitch Cricelli booted two goals, including Rochester's sole major in the second half, while Adam McPhee battled hard for the visiting team.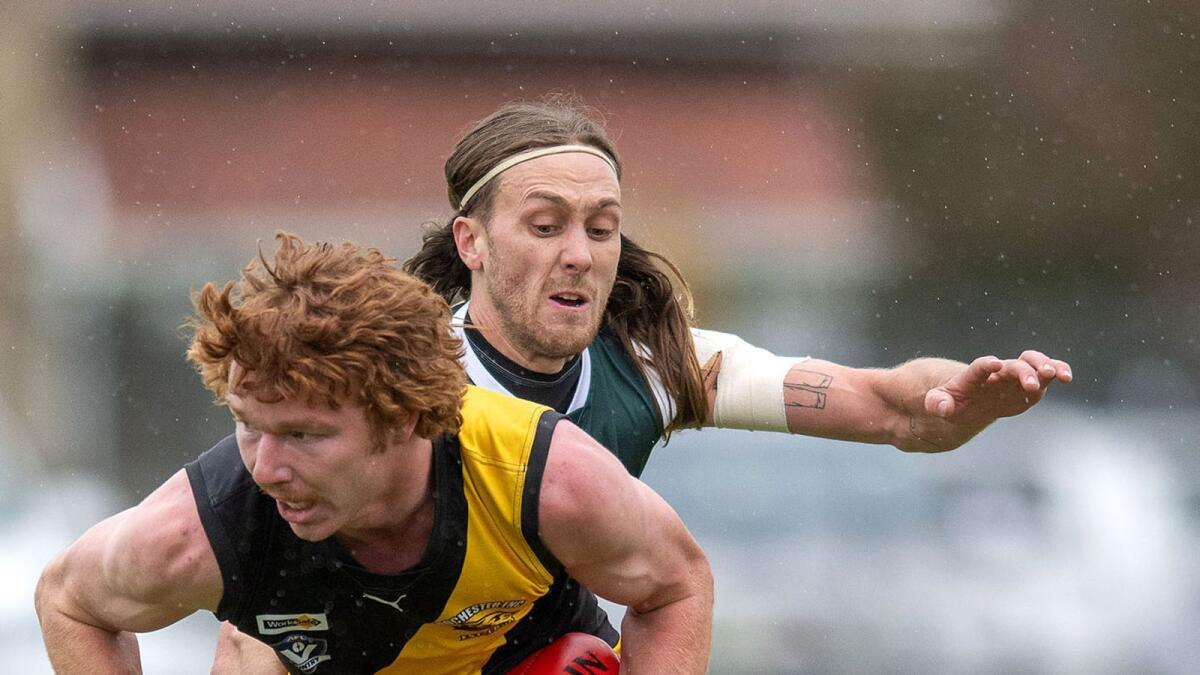 Echuca forward Ruory Kirkby kicked three goals, while Sam Willoughby and Jack McHale excelled in the midfield battle.
"Our young guys stood up a bit in the first half which was really pleasing," Stroobants said.
"Grant Fuller we gave the role to play on Andrew Walker and we thought he did a stellar job to help nullify him at points in the game.
"We battled away, and it didn't blow out too much which it could have, because Echuca got well on top in the second half."
Echuca have now jumped to the top of the GVL ladder after Sunday's win, equal on wins with Mansfield, who were comfortable winners over finals contender Mooroopna.
Rochester, now third, share a 6-2 record with Mooroopna, Kyabram and Euroa, making this Saturday's clash against Seymour at Moon Oval a crucial one to stay with the chasing pack.
The Lions have managed back-to-back wins, and Stroobants expects them to have a full complement of players after an injury-plagued start to the year.
"It will definitely be another hard-fought game for us," he said.
"I think they're starting to get a few of their players back, so they'll be looking for a bit of form and make a run to finals.
"It's a big game for us to try and solidify our spot in the top six; Seymour's in seventh and trying to make a run for it."
Goulburn Valley League
Rochester: 2.4, 4.5, 5.5, 5.6 (36)
Echuca: 1.2, 5.4, 8.7, 12.9 (81)
Goals
Rochester: Mitch Cricelli 2, Lachlan Harper, Andy Henderson, Izaac Johnson
Echuca: Ruory Kirkby 3, Dan Willis, Will Monahan 2, Cooper Barber, Jack McHale, Kane Morris, Jackson Stewart, Sam Willoughby
Best
Rochester: Adam McPhee, Grant Fuller, Mitchell Bright, Andy Henderson, Izaac Johnson
Echuca: Sam Willoughby, Kane Morris, Benjamin Reid, Jack McHale, Aiden Mills