GVL ǀ Gallery ǀ Waite's heroics not enough as Lions leave Benalla with sixth straight win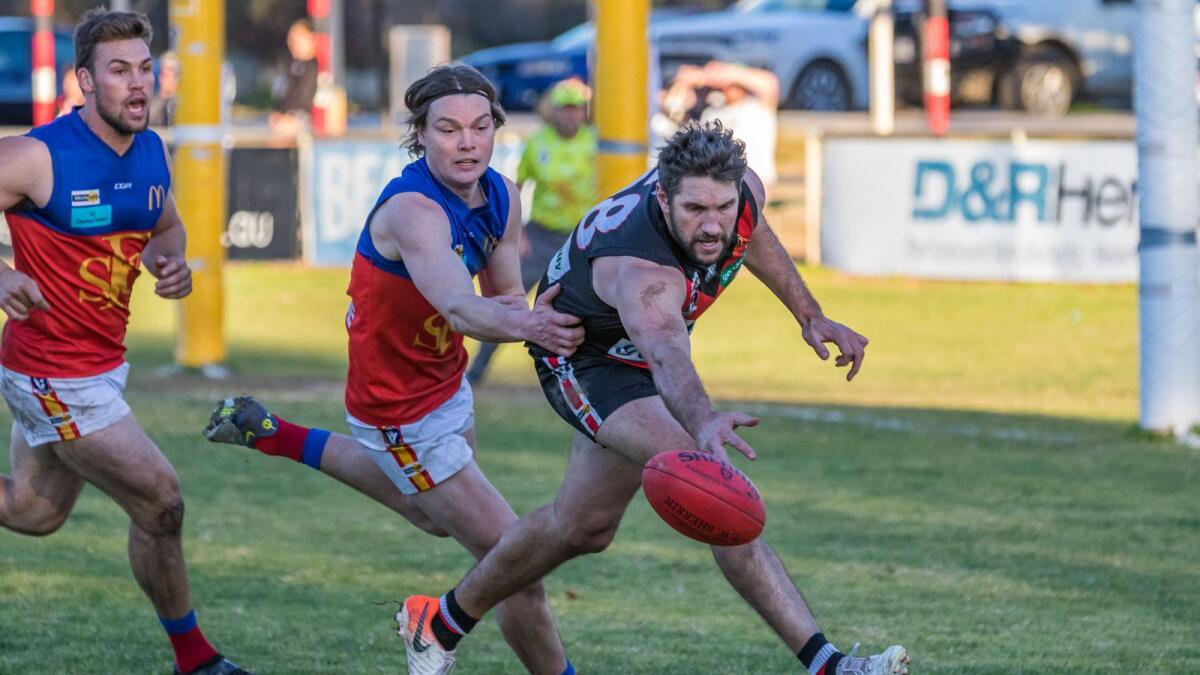 A feeling of great optimism filled the air at Benalla Showgrounds on Saturday; a steady crowd forming to watch home-town hero Jarrad Waite pull on a Saints guernsey for the side's round-12 Goulburn Valley League clash with Seymour.
The former AFL star did not hesitate to give fans what they wanted early, kicking two quick goals inside 10 minutes to have the Benalla faithful on the edge of their seats.
But a well-tuned Seymour side, bolstered by the return of a number of key contributors on Saturday, wrestled the game back on to their terms to run away with a 15.10 (100) to 9.7 (61) win — the Lions' sixth on the trot.
Despite missing out on four points, Benalla celebrated the career of stalwart playing-coach Will Martiniello on Saturday, who ticked off his 100th senior game in what has been a storied career at the Saints.
Speaking after the game, Waite said it was a great feeling being back on a field he had not played footy on since he was a junior.
"It's nice to be back, I've always loved the ground, it was a bit soft today but it's really good to come back and have a kick and see some old faces," Waite said.
A dominant opening term, spearheaded by Waite, had Benalla well and truly in the contest at the first change on Saturday, trailing the Lions by just seven points.
The Saints' surge was short-lived, however, with Seymour stamping its authority on the game with a six-goal-to-one second quarter.
The Lions' on-ball duo of Rory Scopel and Ben Rigoni started to see more of the footy, while livewire Nick Quigg, relieved of his Murray Bushrangers duties, was a particular standout across the ground.
"We went away from how we want to play in that second quarter, we had a bit of a talk about it at half-time, they're a quality team with a really good structure," Waite said.
"That second quarter let us down a bit today, but there's some really positives signs for the club after what's been a tough year."
Saints' half-back Samuel Harris flew the flag for his side, getting himself up the ground to kick three, while Josh Marchbank was at his dominant best yet again in the ruck battle and collected best-on honours.
"We've got a little bit to work on, but overall, I thought we had a fair dinkum crack for probably three quarters, third quarter we came out and showed what we can do so we'll take that going into the game against Tatura."
Waite's presence forward made all the difference on Saturday, a key forward target a breath of fresh air for midfielders Chris Welsh and Martiniello.
Finishing his day with a handy five majors, Waite said it was just good being back playing footy with his mates.
"It's always good to get hands on it early," he said.
"Kicked straight early which was good, I haven't played on this footy field since probably under-18s, I've been back a little bit over the years, but this is probably the first time since then I've pulled the boots on.
"A couple of boys I played with are now playing in the twos, Cam Symes and Sam Little who helped out coaching today.
"I know the other boys through mates in Benalla; Wolfy (Jordan Wolff) and Webby (Brody Webster), it's good to have a kick with all of them."
For Seymour coach Ben Davey, a precious four points was the main takeaway after a plucky Saints side gave his men a run for their money at different stages of the game.
"I've been saying all along, they've got a really good core group of players; the best ruckmen in the league in Josh Marchbank leading the hit-outs, one of the cleanest players in the game in Will Martiniello and his brother Jim (Martiniello) who's a hard-nut and good around the footy," Davey said.
"When you look at that on-ball brigade there, if you don't come to play against them you'll be in trouble, and we didn't."
Despite being unable to play the game fully on their terms, Ben Clifton, Nick Quigg and Ben Cooney all impressed the Lions' mentor upon their return to the senior side, while Seymour debutante Tom O'Sullivan was also a standout with a goal on debut.
"Quiggy was really good, Ben Cooney was really good in his first game back for a long time, was good to get him through and Cliffo as well after three weeks out," he said.
"Tom O'Sullivan's a really good young footballer as well, first game in the senior group, which is always a bit awkward but he performed well."
Seymour was too strong in reserves action, overcoming the Saints 26.13 (169) to 3.4 (22).
Benalla slipped further from finals contention in A-Grade netball action on Saturday, going down to ladder-leader Seymour 63-33 to keep the Saints in eight and two wins away from the top six.
The B-grade side also suffered a tough defeat at the hands of the Lions, going down 61-33.
In junior action during the weekend, the Saints' under-18s footballers can hold their heads high after coming close against Seymour, losing out 13.11 (89) to 4.5 (29).
In under-17s netball, Seymour took the points with a 45-30, while the under-15s also lost out 39-24.