Benalla's Keeley Skepper named an NAB League All Australian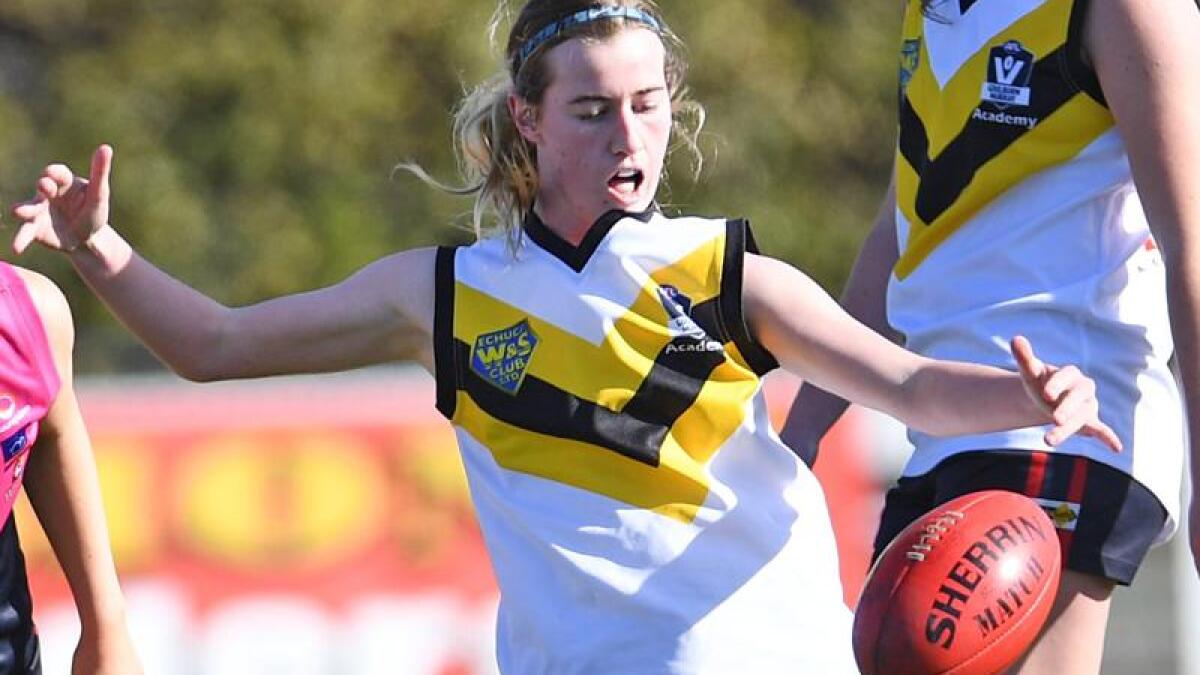 The stock of Benalla's Keeley Skepper continues to rise, with the 18-year-old named in the 2022 NAB League Girls All Australian team.
Taking her place in the back pocket, Skepper enjoyed a sensational season for the Bushrangers, averaging 24.2 disposals, 4.3 tackles and 4.1 rebound 50s across her nine NAB League games.
She then translated this form to the national stage, dominating for Victoria Country in the recent national championships to be named the team's MVP.
Murray Bushrangers assistant coach Mario De Santa-Ana said the program was incredibly proud of what Skepper had achieved.
"Without a doubt we are just absolutely pumped to have Keeley in the All Australian team," De Santa-Ana said.
"It is great reward for the hard work she has put in over a three- to four-year period.
"We are all really rapt for her to come away with this achievement, and from a program point of view it is really positive that we are seeing girls make that level of side."
Taking on the role of co-captain of the Murray Bushrangers side in 2022, Skepper played a key role across half-back and through the midfield, leading from the front with her work around the contest.
De Santa-Ana said it was a pleasure to watch Skepper run around this season.
"The focus for Keeley this year was to develop into more of a midfielder, because we knew her strengths lie in her ability to read the game and use the ball," he said.
"She is a magnificent left-foot kick, probably one of the best in the NAB League, so for us it was about getting her around the ball more, and she thrived.
"We spoke about improving her consistency at the start of the year, and she certainly achieved that, featuring in our best players pretty well every week.
"So to watch her improvement through the year was very pleasing."
Looking at the bigger picture, De Santa-Ana said he hoped local girls would take inspiration from Skepper's story and get involved in the Bushrangers' program in the future.
"It is great for us from a program point of view and we hope that in the areas Keeley comes from in Shepparton United and Benalla she can get a bit of interest going in girls' football," he said.
"A result like this is a big tick for our program and gives us a lot of confidence that we are heading in the right direction.
"But the challenge for us is not to rest on our laurels but look to improve our program and help develop more girls into top-flight footballers."
And as for Skepper's football future, De Santa-Ana said the sky was the limit when it came to a career in the AFLW.
"Keeley has certainly hit all the milestones when it comes to getting drafted," he said.
"Playing for Victoria Country two years in a row, taking out the MVP, All Australian, there is certainly AFLW interest out there.
"I think she would be a fairly good chance of being picked up somewhere."
Skepper was one of two Bushrangers to be named in the All Australian team, with Lavington's Zarlie Goldsworthy securing a spot on the half forward flank.