Benalla's Keeley Skepper is gearing up for the big time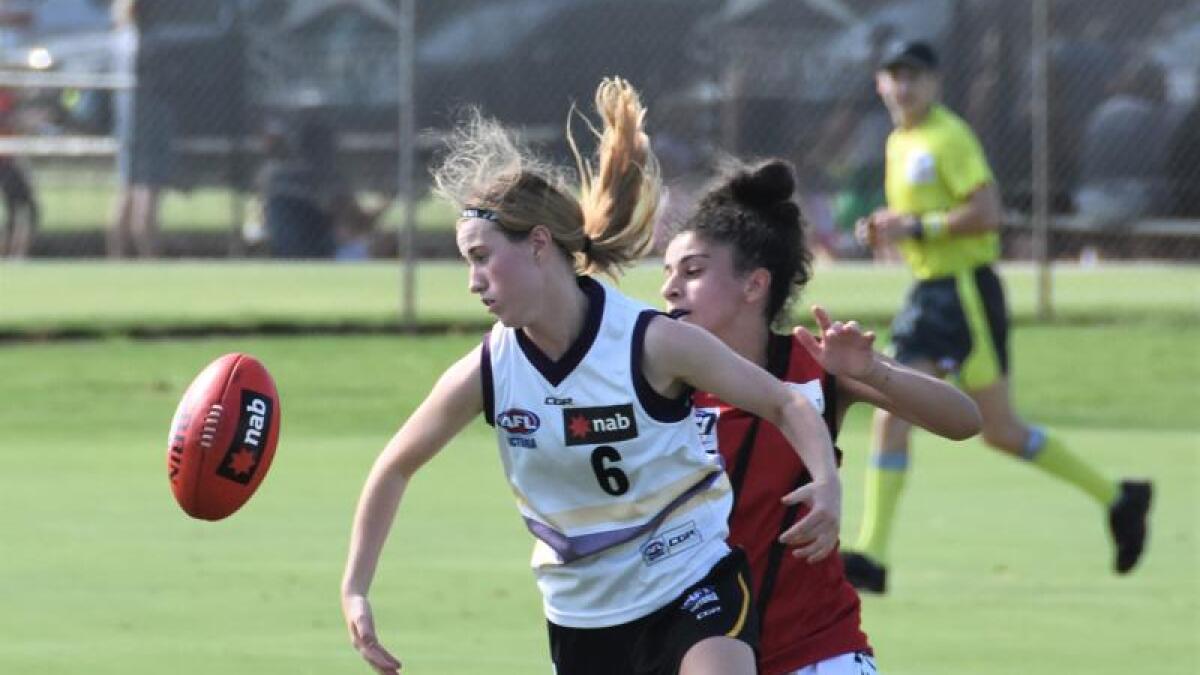 For Benalla product Keeley Skepper football isn't just a passion, it's an obsession.
Beginning at AusKick in Wodonga, Skepper's football journey has taken her all across northern Victoria, with stints at Benalla, Shepparton United and Murray Bushrangers rounding her into the star player you see today.
Having dominated the junior ranks for the best part of five years, the 17-year-old now finds herself on the precipice of joining the AFLW, with an exceptional 2022 season seeing her skyrocket up draft boards.
Chatting with The News in the lead up to tonight's AFLW draft, Skepper said she was overwhelmed with excitement as she awaits her fate.
"I'm a bit nervous about it, but I think everything I've done throughout the season should give me a good chance to get picked up," Skepper said.
"I have spoken to a few clubs, including one from interstate, so I had to make a call on what state I wanted to and ended up choosing Victoria.
"The whole draft process has been really fun, I just love having a chat to the clubs and showing them what I can bring, it is all very exciting and I cannot wait for draft night."
For all up-and-coming football prospects, a lot of hard work goes into preparing for their "draft year", as they strut their stuff at club, NAB League and state level in a bid to show recruiters they are worthy of being drafted.
With this in mind, Skepper went above and beyond throughout her 2022 campaign, putting together a season that saw her claim MVP honours for Victoria Country, gain selection in the NAB League team of the year and come runner up in the Murray Bushrangers best and fairest.
She said this year has been the most rewarding of her budding career to date.
"It was good fun all round, with Bushies we had a really good team and probably should have made the finals, but the memories I made with all the girls it was just so enjoyable," she said.
"In Victoria Country we probably didn't have the success we wanted to, but again I just had so much fun with the girls and you meet so many new people and make friends for life.
"Individually I think I played pretty consistent footy throughout the year, I had a few down games here and there, but overall I was very happy with the season I put together."
From a performance standpoint, the highlight of the year without doubt came from the state championships, where her hours of hard work culminated in her shining above her talented Victoria Country teammates.
"I wasn't really expecting to win (the MVP) to be honest, I played in a very good team with a few girls set to go in the top ten in the draft," she said.
"It definitely took me by surprise, but I knew I played alright in the three games and once I won it I knew I deserved it because I worked so hard throughout the three games."
Spending her formative years in Wodonga, Skepper began to truly thrive as a football prospect when she moved to Benalla and became involved in what has become a women's football factory at the Saints.
Following in the footsteps of Geelong's Becky Webster while playing alongside eventual Bushies teammates Cassidy Mailer and Gray sisters Madison and Tayissa, Skepper fell in love with the game at Benalla before making the shift to Shepparton United.
"Benalla was awesome, we played in a lot of finals and I loved playing with all the girls out there," she said.
"But then I made the move to Shepparton United to be able to play under Waldo (Dean Walton), and that is really where my game started to take off.
"Moving back to Wodonga during COVID, I still played for Shepparton United because I enjoyed it, and being able to play footy with all my mates out there it made even the travel enjoyable."
Having toiled hard through her jam-packed junior journey, Skepper's dream of becoming a professional footballer now appears to be just days away from becoming a reality.
She said her main aim now was to have an impact at whatever club she ended up playing for.
"I don't want to get drafted and just be a player on the list, I want to get games and have an impact from the start," she said.
"I will continue to work hard and push myself to get better every day, I have always enjoyed footy and it is something I am definitely obsessed with."