Bears record gutsy 11 point win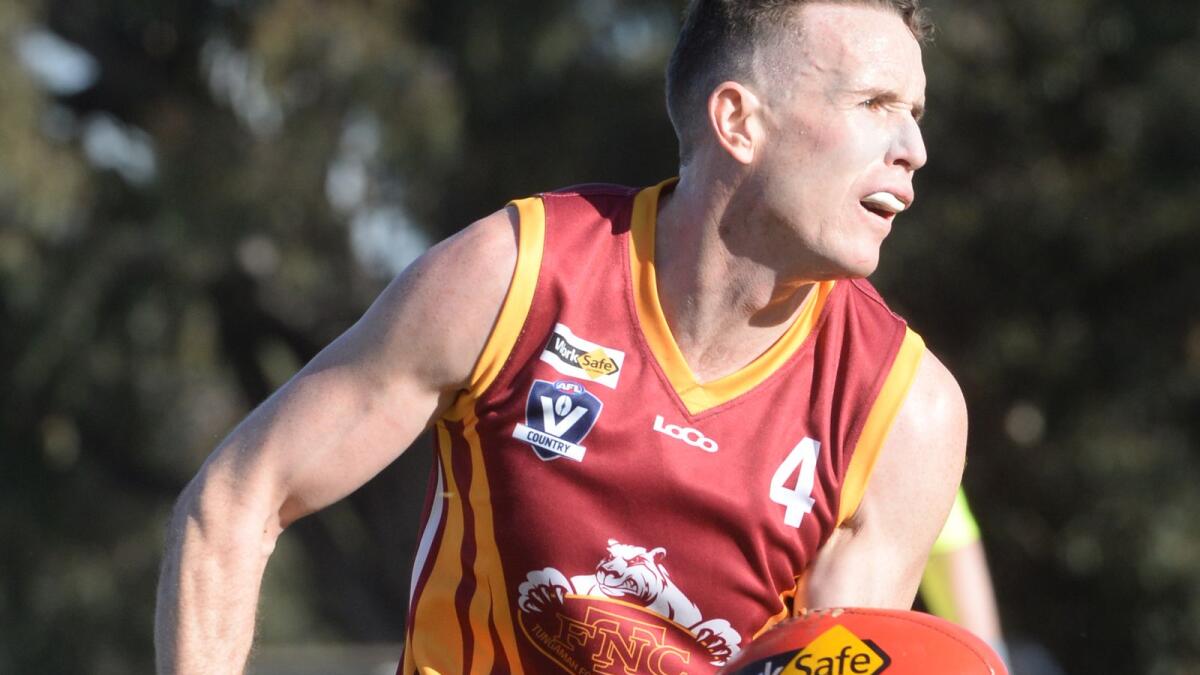 Tungamah 2.2, 5.3, 10.3, 15.4.94.
Strathmerton 3.2, 8.7, 9.8, 12.11.83.
Goals: Tungamah: A. Saunders 6, N. Lawless 3, J. Cooper 3, T. Irvine 1, D. Symes 1, N. Irvine 1.
Strathmerton: T. Looby 3, S. Russell 3, Z. Betson 2, M. Ryan 2, M. McMillan 1, D. Keck 1.
Best: Tungamah: J. Irvine, N. Lawless, A. Saunders, D. O'Kane, N. Irvine, J. Cooper.
Strathmerton: T. Sidebottom, R. Butler, J. Ellery, S. Emmett, S. Russell, T. Looby.
Sunny conditions greeted the players last Saturday as the Bears hosted Strathmerton on AG and Sponsors Day.
With rain during the week the ground conditions were heavy and a little slippery. This ensured the game was going to be won or lost in the contest around the ball.
Strathy started well in this area, they were applying a lot of pressure to the Bears and were cleaner around the stoppages to set up scoring opportunities.
The first half saw them grab these opportunities and led by 22-points although they were a little inaccurate which helped keep the home side in the contest.
The Bears midfielders were asked for a lift at the main break and a couple of positional changes helped them gain the ascendancy. Conditions were perfect for Jim Irvine, and he had a brilliant 3rd term continually feeding the ball out to the runners who gave the forwards some good looks.
Ash Saunders and Nick Lawless were proving to be good targets up forward and were finishing their work nicely.
The Bears kicked 5 goals to 1 for the quarter to lead by a solitary point at the final change. In an action-packed final term Tungamah would grab the ascendancy with 3 great goals from Jhett Cooper and the self-proclaimed goal of the year from Lawless to grind out a gutsy 11-point win.
Saunders finished with 6 goals to be the difference between the 2 sides.
Nick Irvine would have a bout of leather poisoning after 30 plus touches, while down back Des O'Kane continued his brilliant form.
Gus Ford and the Scott brothers were other fine performers on the day with the win cementing Tungamah's position on top of the ladder going into 2 straight byes.
Awards: Cellarbrations - A Saunders, Club Mulwala - O Willis, Wingates - L Connell, One Zach - M Adkins, Ski Club - N Lawless, TFNC Meal - J Cooper.
Reserves
Tungamah 9.8.62 defeated Strathmerton 6.2.38.
Whilst it was a little bit wet underfoot, Tungamah booked in the weather for the lunch time legends and rolled out onto the ground for another walk up 4 points.
Unfortunately, someone forgot to tell Strathy about this plan and the Strathy boys went about making it an arm wrestle all day!
The Bears put the vote dispenser C. Jones into the ruck early, but he was more misused than a self-serve bar at an underage function as the Bears saw many won taps result in doggies clearances.
Rangi continued to show his disrespect for the twos as he left selectors almost no room to move on his re-admission to the seniors after the break, with a power of the ball and proving he's still a class above. Sam Kellock like a young Sandra Bullock in "speed" saw the bus cruising toward an epic explosion and threw himself in the driver's seat and took control out of the backline.
M Powell took the eftpos machine out with him and started charging rent to anyone found spending too much time in his pocket, as he starts to really work his way back into form.
Mr 450 and change showed he has no intention of treating the body any better after the milestone and continued to throw his body at every ball and into every pack. The secret to longevity must be in the 10+ can recovery?
Matt Irvine in for his first game displayed the difference between skill and fitness. If you had the skill, you'll always have it. But the fitness… that can be lost.
The big fella was instrumental in the win when the pressure was on but if he was a racehorse today the scribe reckons they would bring out the curtain for him!
With the boys playing far from their best football resulting in them being down at the last break, Waity turned his hand to coaching. He put his career on the line and made the call to move the coach out of the midfield.
Luckily it was a match winning move that gave the iceman enough room to bend one through the big sticks from the car park and get the boys back in front. With the momentum swing and the new look midfield the boys went back to their brand of football and were able to create some breathing room before the final siren.
It was great to have a hard-fought game and the full length mirrors will be out over the next few weeks for anyone who thought it was going to be an easy season to have a good hard look at themselves!
Side notes: Gambi received the comprehensive state of origin experience a day early with a double take down from the two props. Even the opponents were impressed with his return to the field.
Jugg will spend some time re-reading the rule book this week to see what the ruling is on mud fights. Jack Connell is now running a new taxi service in Tungamah.
Goals: T. Hayes 3, M. Powell 2, J. Reilly 1, J. Henderson 1, J. Saunders 1, D. Clarke 1.
Awards: Club Mulwala (RSL) - M. Powell, Tungamah Hotel - M. Irvine, Yarrawonga Pilates & Clinical Myotherapy - T. Hayes, One Zach – C. Jones, Aerial Muscle Balance – S. Kellock, Tungamah FNC meals - S. Thomson.
Thirds
Tungamah 17.12.114 defeated Strathmerton 4.5.29.
Tungamah welcomed the Bulldogs to play a match in front of a huge crowd. The Bears knew they were in for a tough game and were up for the fight.
The Bulldogs came out ready to go and the first quarter was tough and hard at it by both sides. The game broke open in the second quarter and the Bears had 10 goals on the board at half time.
It was a great team effort with all players wanting to get their hands on the ball. The backline was strong and tight and kept Strathy to 4 goals for the match.
The centre line dominated all day and pushed the ball forward to create many scoring opportunities which resulted in 7 individual goal kickers with Loch Phillips getting 7 and Liam Williams bagging 3 of his own.
The boys are bonding together nicely and building towards a strong Finals campaign.
Goals: Loch Phillips 7, Liam Williams 3, Jack Costigan 2, Harvey Thomson 2, Jayden Arnold 1, Jack McQualter/Whyte 1, Xander Smith 1.
Awards: Coaches - Geoff Montgomery, Beaton Family - Liam Williams, Beaton family - Jaxon Raven, Yarrawonga Bakery - Harvey Thomson, Tungamah General Store - Darcy Hicks, Yarrawonga Golf Club - Alec Williams, Footy Korner Shepparton - Tom Costigan, Ricky D's Pizza - Jack Costigan, Yarrawonga Fish & Chips - Beau Cummins.
Fourths
Tungamah 10.10.70 defeated Strathmerton 2.2.14.
It was a must win game for the Tungamah 4ths this week. Strathmerton came out firing in the first quarter which put the Bears under a lot of pressure.
After a spray from the coach at quarter time Tunga slowly turned things around and by half time, they had more control over the game.
Second half they kicked away for a great win lead by Lucas, Jake, Archie, Declan, Cooper, Jackson (Hotdog) and Kade.
These boys stood up in a tough game which inspired everyone else to lift. All in all, it was a fantastic team effort. Thanks Strathy for a great game of footy.
Goals: Jake Walker 3, Lucas Eales 3, Lenny Lonergan 2, Harry Wren 1, Archie Doyle 1.
Awards: Lucas Eales - Tungamah Store, Jake Walker - Coaches Sock award, Cooper Wilson - Yarrawonga Crusty Loaf, Jackson Houston - Yarrawonga Fish n Chips, Declan Wood - McDonalds, Archie Doyle - $10 Thirsty Lures, Kade Michael - Yarrawonga Golf Club.