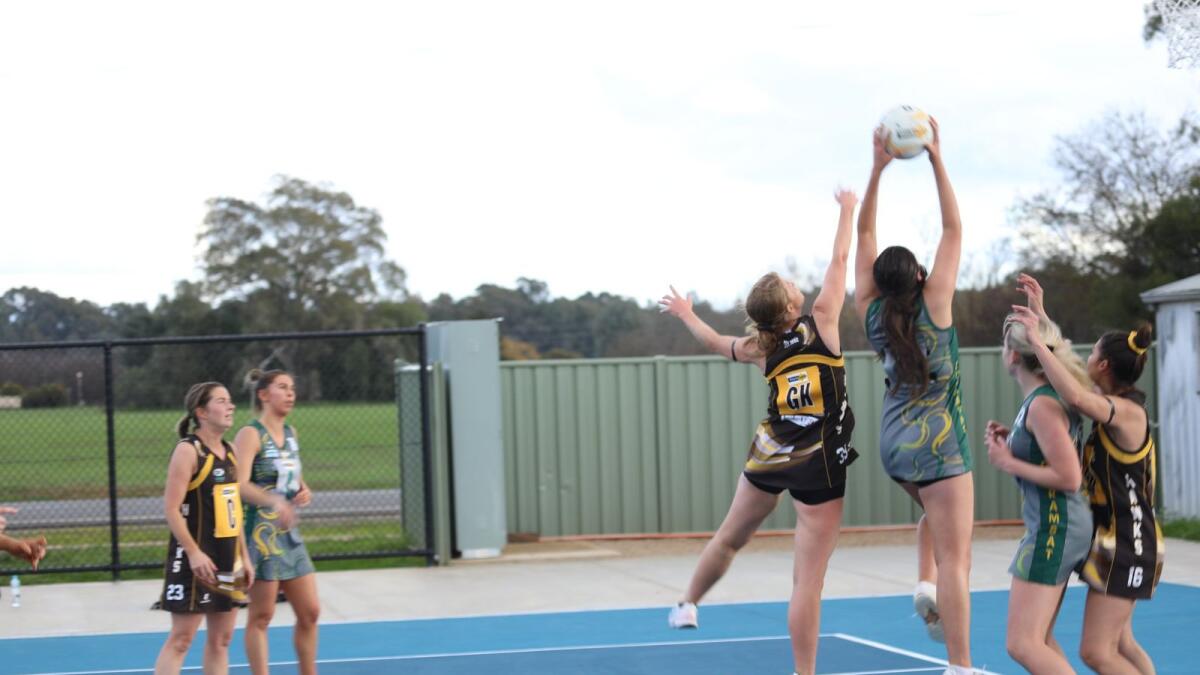 A-Grade
The Bats continued their winning streak during the weekend against North Wangaratta.
The girls travelled over to North Wang, where they came out strong in the first quarter.
Ella Sheehan and Kylie Relf combined to make a solid dent in the scoreboard leading by 16 goals.
The Bats showed consistency across the whole game, pushing their lead out.
Chelsea Beavis returned after being out for injury and took over the shooting position at half-time.
Defends Sarah Osborne and Ally Ellis had showed excellent discipline and rebounded extremely well.
Amelia Gall's experience and leadership helped the bats maintain control of the ball throughout the game.
Overall the Bats had a 42-point win over North Wangaratta.
Goorambat 73 to North Wangaratta 31
Awards: Best-on: Amelia Gall (The Good Guys), 2nd-best: Ella Sheehan (SportsPower Benalla/Shepparton), 3rd-best: Jacinta Beavis (Bill-Bo-Pop).
B-Grade
The Bats had a tough contest against North Wangaratta over at their home ground and were able to come away with the win.
The Bats came out strong, but only had a one-goal lead at quarter time.
Jenna Brunner and Chloe Gunn combined well in goals and kept the bats in the game.
North Wangaratta did not go down without a fight; they showed good defensive pressure making it tough for the bats.
Kelsey Moss, Chelsea Bamford and Georgia Thomson work together well in defence, taking many rebounds and intercepts throughout the game, keeping the Bats in front.
It was a battle for the Bats in the game's remaining minutes, but they beat North Wang by two goals.
Goorambat 45 to North Wangaratta 43
Awards: Best-on: Kirsty Eastwood (Hollywood Cafe Benalla), 2nd best: Kelsey Moss (Thursday Night Dinner Goorambat), 3rd best: Jenna Brunner (Munro and Sargeant Café).
B-Reserve
B-Reserve came up against the tough competition in the top side today, going down 44-19.
Goorambat began steadily, but the intensity of the defensive pressure kept the number-one place holders to 10 goals.
While we couldn't get a high score on the board in the first quarter, a strong second quarter resulted in both teams going goal for goal.
A slow second half let us down, and North Wang could pull away from us, but the team fought hard right to the end.
Best on went to Maddie Thomas for her consistent effort in the ring, her ability to adjust to her player and take on feedback to continually improve each week.
Second-best went to Molly Brunner for her second efforts all day and her defensive pressure throughout the court.
The third best went to Holly Walkaday, who had spectacular intercepts and played smart netball all day, hitting the ring with precision and providing well-thought-out feeds.
Goorambat 19 defeated by North Wang 44
Awards: Best-on: Maddie Thomas (The Royal Hotel, Benalla), 2nd best: Molly Brunner (Jenny Milner-Marsha Watson Pharmacy), 3rd best: Holly Walkaday (Rambling Rose Cafe, Benalla).
Under-15
The junior Bats fought hard all game against North Wangaratta.
Unfortunately, they went down by 13 goals.
Amelia Feldtmann received the best on the court as it was evident how far this player has come and how hard she has been working to improve.
Sophie Hammond also received an award for her ability to challenge herself and take on advice, where she made numerous forward leads.
Not only was the attacking end minimising their errors, but Molly Martin in goalkeeper also had control of the ball when she had it and had a positive attitude all day.
It was rewarding to have improved on our previous game against North Wang.
Goorambat 19 defeated by North Wangaratta 31
Awards: Best-on: Amelia Feldtmann (Goorambat Club Award), 2nd best: Sophie Hammond (Blooms on Bridge), 3rd best: Molly Martin (Spot 4 Icecream, Benalla).