Zac's number one at ground level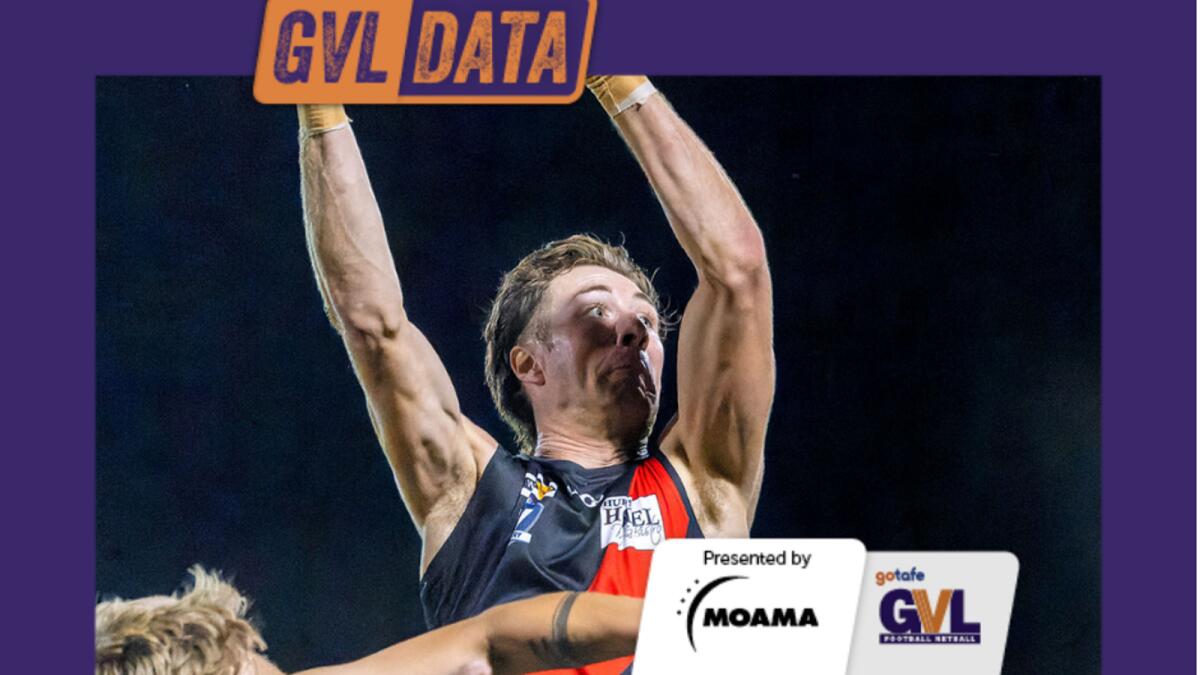 Modern-day ruckmen are much more than gigantic humans who are judged solely on how often they can get their hand to the ball first at centre bounces.
Kyabram's number one ruckman Zach Norris fits the bill as a ruck prototype, as evidenced by his top-three ruck ranking in several GVL Data statistical fields.
Norris has provided more than enough proof that there is much more to his game than a simple tap to a more fleet of foot ground level player, among the competition's leading ruckman in regard to groundball gets and inside 50s.
He is ranked right behind, arguably, the league's best-performed ruckman (statistically) this year — Mooroopna's Liam Betson — in regard to total disposals, clearances and contested possessions.
Norris, a 24-year-old electrician with Kyabram District Health Service's maintenance team, has enjoyed the past two weeks rucking alongside his early career mentor — Jake Reeves.
"We rucked in 2019 together. He (Reeves) was the main ruckman at Ky when I was coming up," Norris said.
Norris and Reeves have only played together on four occasions this season, but in two of those games (including one defeat) they have been dominant forces.
Against Rochester last week they won the hit out count 62-35 and in round five this year the hit out result was 61-29 in the Bomber partnership's favour.
Norris said he had enjoyed match ups with two of the leading GVL ruckmen who he had not played against in previous seasons.
"Marchbank from Benalla is a big boy. He was good to play against and this year was also the first time I'd played against (Andrew) Smith from Euroa," he said.
A 2019 premiership player, Norris made his debut with the Bombers in 2016, while sharing his workload with the Bendigo Pioneers in the NAB league.
He represented Vic Country at Under 19 level in 2017 and has racked up more than 80 senior appearances since graduating from Kyabram junior ranks.
In his 11 games this season he is averaging a tick under 15 possessions and 27 hit outs, but it is in not so familiar — to rucks at least — fields that he is making his mark.
Norris has averaged almost eight groundball gets a game this season, just behind Betson, his work at clearances rewarded with almost five a game (second to Betson).
The pair are head and shoulders clear of their rucking colleagues in regard to contested possessions, Betson narrowly tipping the Kyabram star out in this field as they are 10 clear of the next best ruckman — Shepparton United's Edward Adams.
Adams is a unique case study with his statistical return this season.
He is ranked 12th in regard to hit outs, less than half of the leading players, but is the leading ruck in regard to disposals.
He is averaging 19 touches a game this season and is also a clear number one when it comes to winning over the men in green.
Edwards has received 30 free kicks this season in his 11 games and has given just five away.
All but three of the top dozen ruckmen have given away more free kicks than they have received, with Edwards and Benalla's Joshua Marchbank the two stand outs.
Marchbank has also enjoyed an armchair ride with an 20-4 frees for and against count.
Norris took the points against Edwards when the teams met in round eight, recording several of his season-high results in the 40-point Bomber win.
He had 19 disposals, 33 hit outs, 12 groundball gets, six clearances and eight inside 50s. His copy book was blotted slightly by the fact he gave away seven free kicks and received just one in return.
Rochester big man Dan Russell is the league's top tackling ruckman, with six a game, and Edwards and Echuca rucking duo (Kane Morris and Liam Tenance) have the highest mark counts — for ruckmen — in the competition.
Benalla's Marchbank leads the league by a clear margin in regard to hit outs, despite having played one less game than many of the competition's top big men.
He is averaging more than 40 hit outs a game, ahead of Betson and Euroa's Andrew Smith (who both average 28 hit outs).