HDFL | LBU hammers Elmore, Colbo's unbeaten run ends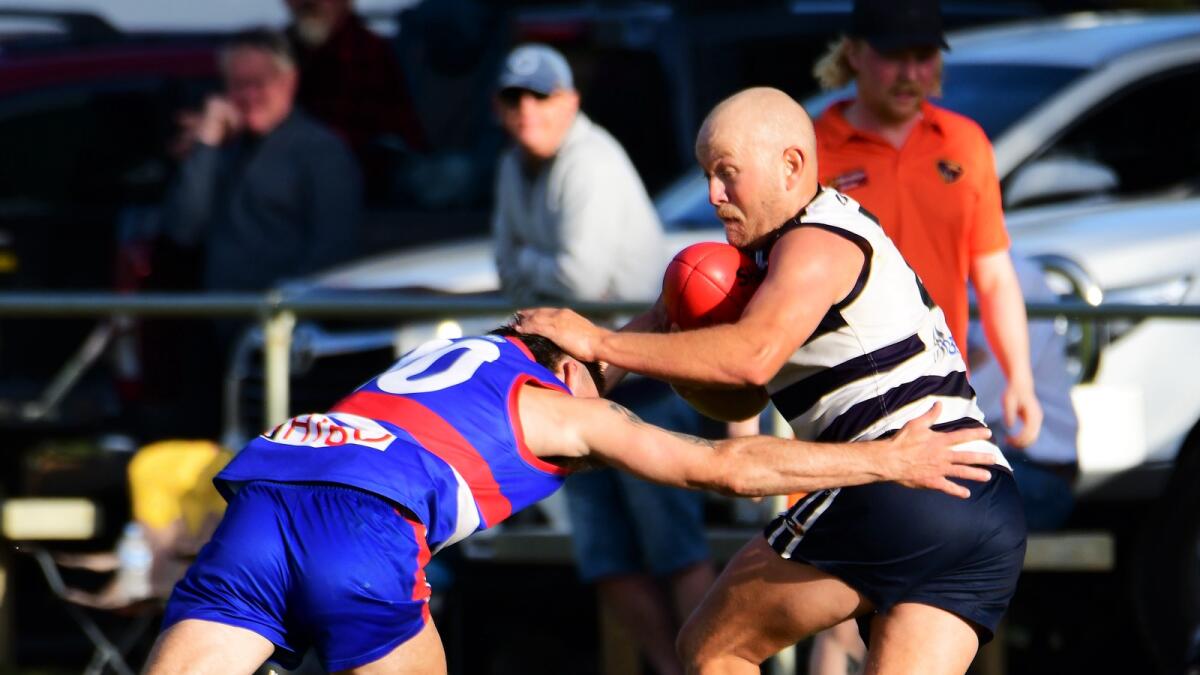 Lockington Bamawm United has bounced back from its first defeat of 2022 in style with a thumping 111-point win over Elmore on Saturday.
It was close to the perfect response from LBU following its 47-point loss to Colbinabbin the previous week, with the Cats dominating throughout to win 24.15 (159) to 7.6 (48).
LBU came out firing in the first term, booting nine goals and holding the Bloods to just three behinds to have a commanding lead at quarter time.
Up by 55 points at the main break, the Cats didn't let up in the second half, kicking 12 goals to four to cruise to a huge 18-goal win.
Anthony McMahon kicked five of LBU's 24 goals, while Ben Fulford and Thomas Leech had four majors each.
Tyler Phillips, Nathan Bacon, Anthony McMahon and Riley McIvor were among the best for the Cats, with the side picking up its seventh win of the season
Sebastian De Napoli was Elmore's lone multiple goal scorer of the day with two, while Zack Holmberg, Jack Trewick and Liam Gundry were three of the best for the Bloods.
The win sees LBU move back to within a game of top spot in the Heathcote District Football League after Colbinabbin suffered its first loss of the season, a two-point defeat to Mount Pleasant.
The Hoppers had an 18-point lead at three quarter time, but four goals to one in the final term for the Mounts saw them come from behind to win 13.6 (84) to 12.10 (82).
James Brain was the leading goal scorer for Colbo with five majors, while Jed Brain kicked three.
Jed Brain, Logan Fitzgerald, Lachlan Ezard and Hadleigh Sirett were among the best for the Hoppers.
The result means there are now no undefeated teams left in the Heathcote District League.
Colbinabbin (8-1) sits in first place, with LBU (7-1) just behind in second spot. Mount Pleasant (6-2) is in third, with North Bendigo (5-3) rounding out the top four.
Heathcote District Football League
Mount Pleasant: 3.2, 6.2, 9.2, 13.6 (84)
Colbinabbin: 2.4, 5.6, 11.8, 12.10 (82)
Goals
Mount Pleasant: Ben Weightman 4, Mitchell Bennett 3, Pat O'Brien 2, Riley Mcnamara, Dean Tydell, Bailey White, Daniel Whiting
Colbinabbin: James Brain 5, Jed Brain 3, Todd Clarke 2, Logan Fitzgerald, Stephen Tuohey
Best
Mount Pleasant: Bailey White, Fletcher White, Chris Down, Mitchell Bennett, Ben Weightman, Pat O'Brien
Colbinabbin: Jed Brain, Logan Fitzgerald, Lachlan Ezard, Hadleigh Sirett, Todd Clarke, James Brain
Heathcote District Football League
Lockington Bamawm United: 9.3, 12.6, 16.10, 24.15 (159)
Elmore: 0.3, 3.5, 7.6, 7.6 (48)
Goals
Lockington Bamawm United: Anthony McMahon 5, Ben Fulford, Thomas Leech 4, Rhys Woodland 3, Jesse Collins 2, Baxter Anderson, Marcus Angove, Lachlan Atherton, Stanley Brentnall, Jeremy Mundie, Tyler Phillips
Elmore: Sebastian De Napoli 2, Tannar Cerrone, Dylan Gordon, Liam Gundry, Nicholas Kellow, Darcy Laffy
Best
Lockington Bamawm United: Tyler Phillips, Nathan Bacon, Anthony McMahon, Riley McIvor, Thomas Leech, Marcus Angove
Elmore: Zack Holmberg, Jack Trewick, Liam Gundry, Regan Williams, Bailey Sawyer, Dylan Gordon