Hall of Famer Robert Tait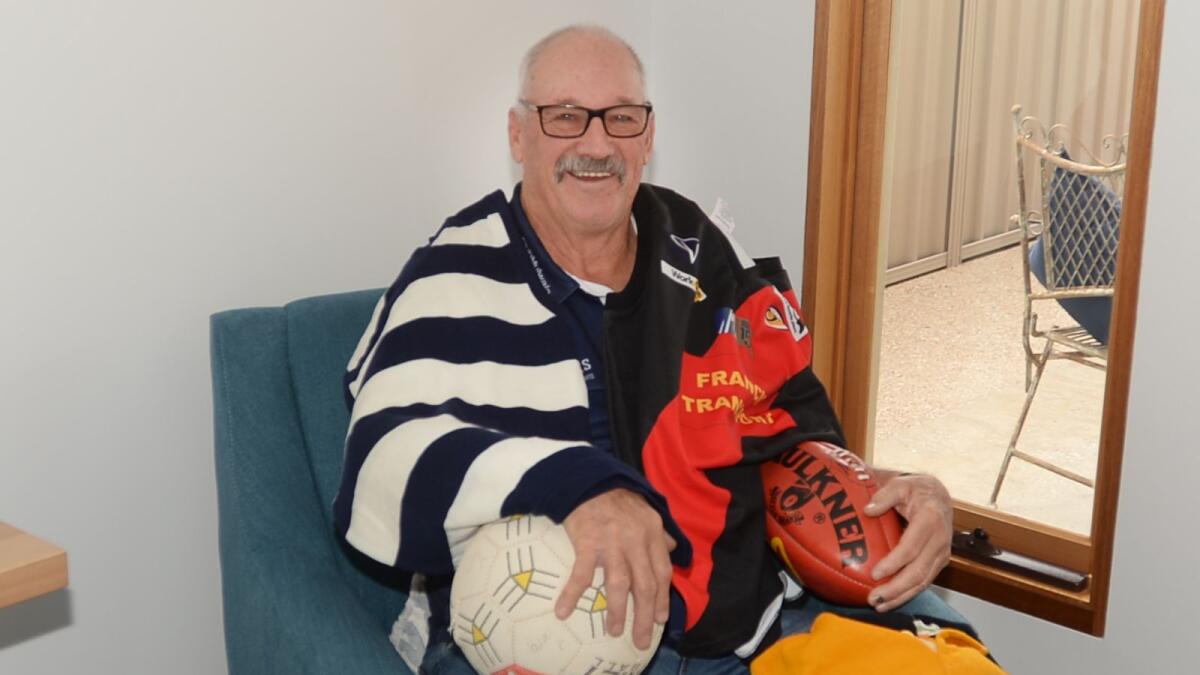 After a star-studded football career initially with Corowa Spiders before a longer stint with Yarrawonga Pigeons, and a major role in Pigeons' netball, Yarrawonga Football and Netball Club Life Member Robert Tait is to be inducted into the Ovens and Murray Hall of Fame.
The 71-year-old retired Yarrawonga Elders Branch Manager will be formally admitted to the league's Hall of Fame on July 30 in Albury.
"It's a huge honour and a privilege, totally unexpected," he told the Yarrawonga Chronicle of his selection. "I didn't expect anything but when you see the people in the Hall of Fame it makes me feel very proud.
"Along the way I've had wonderful support from (wife) Kaylene and the girls Janni and Bridget. I feel very lucky to have played the game and at the level I did."
The football career of the man popularly known as 'Bert' started at Corowa – his place of birth - as a 12-year-old for Souths, travelling in from the family farm at Rennie.
"There were three teams in Corowa – Souths, Sunnyside and Centrals. Bill Chisnall, the father of Peter, was our coach."
At just 14-years-of-age, Tait made the senior team at Corowa in 1967, playing three games, turned 15 years, then the big year. At age 16, in 1968, playing centre-half-forward/ruck, it was finals time, after finishing last in 1967.
"John Hoiles (former Footscray centre-half-back) was my first coach, one of the best blokes I've ever met. Fred Swift, captain of Richmond's 1967 premiership, coached us to the 1968 flag. He watched our last game the previous season when Wodonga beat us pretty easily.
"Come 1968, John Hoiles said he'd like to stay on as a player. We recruited three players, Ike Isley from St Kilda, Lindsay Jacob from Walla Walla and Jack Clancy from North Heidelberg, all really good players. There were about seven or eight of us aged 16 to 21 with all these experienced players."
To make the finals that year, the Corowa Spiders as they were known, had to beat fourth-placed Wangaratta by six, seven or eight goals. "We won by 15 goals and went into the finals as the fourth best side.
"Then it was North Albury at Yarrawonga in the semi-final. Stan Sargeant was a great full-forward. He booted four or five goals against us in the first quarter but we then put John Hoiles on to him. 'I didn't just get another goal after quarter time, I didn't get a kick!', Stan later said. Down 22 points at half-time, we won and beat Myrtleford in the preliminary final by four goals."
Getting to the grand-final against raging favourites Wodonga resulted in a seven-point win for Corowa.
"Before the game, Fred Swift said to us: 'It's Corowa's day today'. "The first grand-final in 32 years. The town was right behind us. They loved it."
After 76 senior games with Corowa, it was National Service for Tait then a move, employment-wise to Yarrawonga where his football resumed in 1973.
A club best and fairest in 1976, five times runner-up, captain in 1980 and 1981, Tait played 174 games with the Pigeons to 1982, plus representing the O and M eight times; an overall total of 250 O and M games.
It was then off to Rennie where he coached for five seasons (1983 to 1987), clinching two premierships.
Tait was on the O and M Board for seven years in the 1990s, chairman of Murray league tribunal for a few years and was instrumental in establishing the Pigeons' Past Players Group in 1991. With membership soaring from 100 in the beginning to currently 250, the groups is as good as anyone's in the league according to the 30-year reigning president.
The performance of Yarrawonga netball also makes Tait, who has two star netball daughters Janni and Bridget, proud.
"Tracy Gillies came to me when she became coach (1996) and said she wanted me to be her go-to-man as I was on the one, football committee at the time," he explained. Tait has certainly provided an effective voice for local netball in the O and M league.
A regular opponent of Tait's was Corowa ruckman Mark Mills who said Tait is very deserving of the accolades he receives. "Certainly, he put virtually his whole football career in the O and M. He represented the O and M and was a very fierce competitor," the 65-year-old 1978 Morris Medallist Mills said.
"Obviously being a Corowa boy we knew each other but when we stepped over the line it was game on! He'd start his run-up for the ruck from centre-half-back. We had some terrific contests. I reckon I came out on top a few times!"
The star of the show, who wore number 4 on his back, concluded: "It's been a great pleasure over 52 years, the people I've met. Yarrawonga, Corowa and Rennie are great clubs."