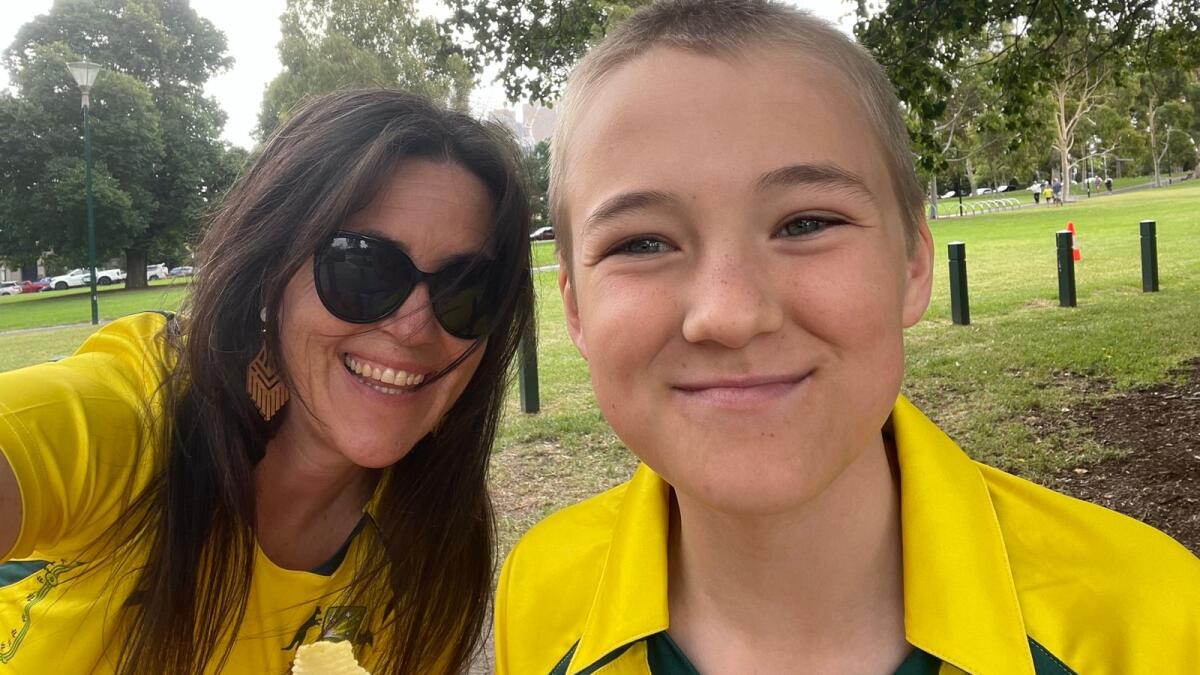 The days have turned cooler just at the wrong time for Jo Burn, who will lose five years of hair growth today for the World's Greatest Shave.
Jo made a promise several years ago to take part in the annual charity initiative, when her son Daniel was undergoing treatment for Acute Myeloid Luekaemia after being diagnosed when he was three.
And now with more than $13,000 raised, Jo has promised today's shave will be a "full family shave".
Jo's original aim was to raise $10,000 before today's shave at Cooinda Hair Studio.
Her locks will be retained, and recycled by Sustainable Salons to provide wigs for those undergoing treatment.
Jo's shave will be livestreamed via her personal Facebook page on Tuesday, from 1pm, and community members are invited to tune in.
To donate, go to www.worldsgreatestshave.com, click on donate and search for 'Jo Burn'.
Deni on the map
Putting Deni on the map is a phrase we use quite regularly, particularly in reference to our local events and community programs when they shine a light on our community.
But meteorologist Jane Bunn has literally put Deni on the map.
When in Deniliquin for the return of her annual weather presentation last week, Jane took questions from the audience.
One person in the full house of guests asked why Deniliquin never appears on the Channel 9 weather maps.
Well, Jane took it back to her team and by the end of the week, there it was!
Wayne's winning pic
Wayne Bradley's become quite well known around town for his footy, bowls and community events photos, and he's also shown an aptitude for nature photography.
Wayne was last week advised one of his images of birdlife had been selected as the April winner of the 2023 Seasol Gardening Calendar competition.
"Intrigued by the call of this little fellow," Wayne said of the pic taken in his Deni backyard.
"Took a while for him to emerge from within his bottlebrush hide, but I was finally rewarded!"
Anyone wishing to try their luck at future monthly prizes can go to https://www.seasol.com.au/home-garden/promotions/.
Foggy start
After a bone-chilling Friday and cool Saturday, Deniliquin and district was graced with its first real 'pea souper' on Sunday.
The fog made it hard to see more than a block in front of you, and did not lift until close to 10am.
Surprisingly, some people were driving in the fog without any lights on.
Friday delivered our lowest top temperature of the month so far, with the mercury only rising to 12.3°C for the day.
The low on Friday was 3.7°C, which is not far off the lowest recorded for the month so far. Lows of 3.4°C were recorded on both Thursday and yesterday.
Saturday and Sunday were only slightly warmer than Friday, with highs of 15.8°C and 15.2°C respectively.
Top temps for this week are expected to be between 17°C and 20°C. We best make the most of them while we can.
Sing Oz needs help
The Deniliquin Sing Australia Choir has resumed coming together on Tuesday evenings in Deniliquin after COVID, but it needs some help.
The group lost its accompanist, and is looking for a replacement.
If you can help, ring Sue McMillan on 0427 272 398.
The group meets from 6pm at South West Music in Cressy St, Deniliquin each Tuesday.
There are no auditions, and anyone is welcome to come along.