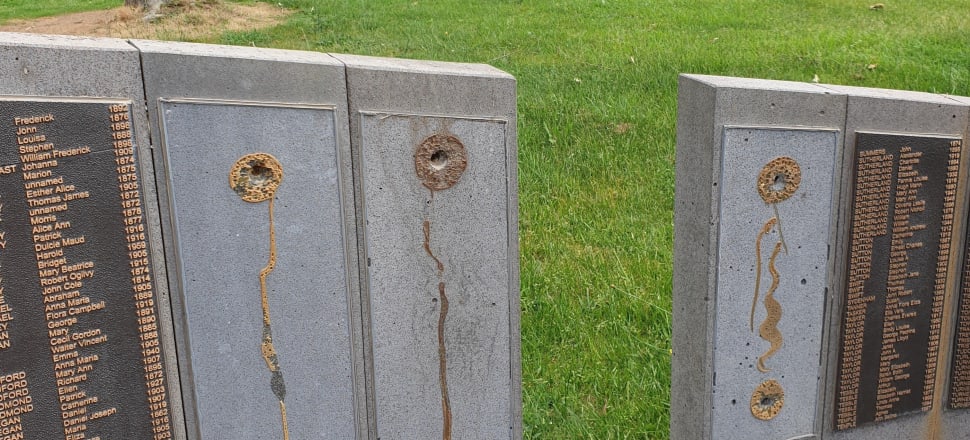 5370537724001
The Seymour Cemetery Trust has been left with a hefty bill after heartless thieves stole four plaques from Pioneer Park.
The trust estimates it will cost between $3000 and $4000 to replace the plaques, which were stolen late last month.
Three of the plaques contained about 200 names of people buried at the park and the other commemorated the former cemetery's transition to Pioneer Park in 1979.
The thefts are part of a concerning trend in Seymour that previously saw 23 brass memorial plaques and four boxes of ashes stolen from Seymour Anglican Church on October 21.
The plaques were individually marked with details of the deceased, some dating back about 50 years.
Police believe the plaques may be melted down and sold as scrap metal.
In another incident, thieves also stole a plaque from the 1st Seymour Scout Group's World War I Armistice Centenary Memorial Peace Park.
Seymour Cemetery Trust chairwoman Angela Wallis said the theft was disrespectful to the history of Seymour.
"It's extremely disappointing and it's going to be extremely expensive," she said.
"We're a small volunteer group and we don't have thousands of dollars to splash around on repairs like this.
"We now have to dig through the records to find out who the 200 missing names are and pay to have the plaques replaced. It's a massive drain on resources.
"Any vandalism in town is distressing for residents but desecration of a memorial is on another level."
If you can help identify some of the missing names, phone the Seymour Cemetery Trust on 0419 565 202.
Anyone with information about the thefts is urged to phone Seymour police on 5735 0200 or Crime Stoppers on 1800 333 000 or submit a confidential crime report at crimestoppersvic.com.au