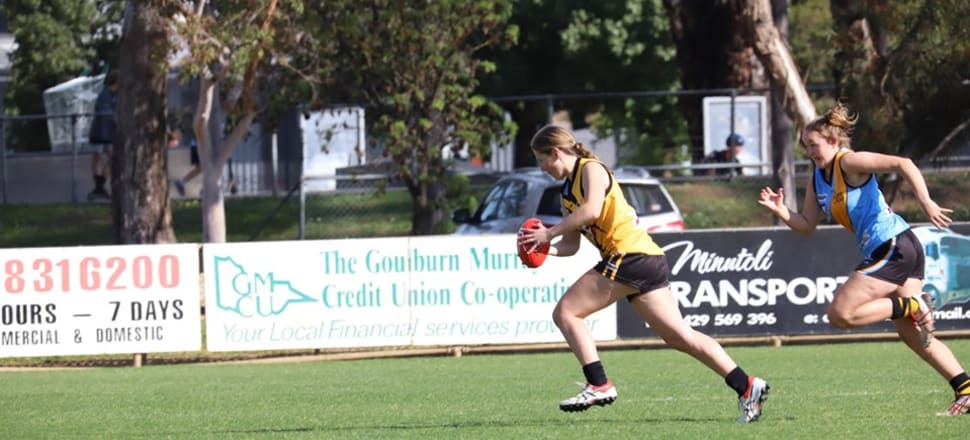 5370537724001
Four Murray Felines players were selected into the North East Border Murray Bushrangers VLine under 15 team last week.
The Felines players selected for the squad were Sophie Nicholson, Mackenzie Lewis, Mietta Habits and Caitlin Somerville.
The coach of the Felines under 16 side, Brad Nicholson, was also appointed as coach of the team.
The Bushrangers played two matches at Mooroopna as part of the VLine football carnival.
The first game was on Monday, where they took on a team from the south-eastern suburbs of Melbourne and the Mornington Peninsula.
The North East Border team were slow out of the blocks and their opposition went into the first break four goals up.
For the rest of the match, the North East Border team were able to match the opposition in general play and the ball was moving freely up and down the oval. Small differences in team cohesion and skill saw the southern team continue to add to the score board whereas the North East Border team struggled to take advantage of their opportunities.
The Bushrangers side then took on the Bendigo Pioneers in their next matchup on Thursdsay. This team comprised of players from the Bendigo League through to the Sunraysia Leagues.
The North East Border team started well, which helped set the tone early in the match.
Miettta Habits displayed plenty of dash through the midfield, Mackenzie Lewis played one of her best games of football in the higher standard, and Sophie Nicholson dominated at full back.
Once again, the Bendigo Pioneer team had an advantage in their marking ability and displayed a better running game. As a result they are able to run out winners by 10 goals. However, this margin did not reflect the closeness of the contest.
Sophie Nicholson was judged best player in the Bushrangers side for the game.
In all the Feline players acquitted themselves very well in the games which were a step up in standard from the local competition. They now have a better understanding of the level of preparation and skill required at this level.