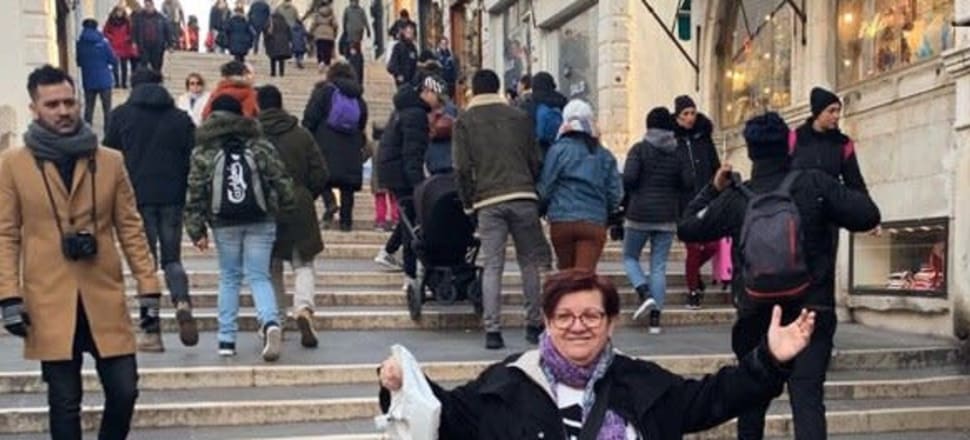 5370537724001
August 25, 1954 to February 9, 2019
It is with deep sadness that we announce the passing of Marisa Vecchio.
Marisa arrived in Seymour in 2014 with her family to renovate and manage the restaurant at Somerset Winery Estate.
After living in Far North Queensland for 25 years, the family moved back to Victoria so their son Gianni could complete his music degree at university in Melbourne.
The family had operated the highly successful La Marina Restaurant at the Marina Mirage in Port Douglas for 19 years.
Encouraged by John Ubaldi, Marisa's older brother and owner of Somerset Winery, the family took a leap of faith and left their beloved home and business in Far North Queensland to start a new life in Seymour.
Diners to the popular Winery Kitchen Restaurant were greeted with a warm and welcoming smile from Marisa.
Marisa was not only the head of front of house but the matriarch of the family.
She was wife and soul mate to chef Sam and devoted mother to Alessandra and Gianni.
The restaurant was a true family affair and in short time changed the dining experience of the Seymour region and attracted diners from far and wide to enjoy the family friendly atmosphere and quality dishes.
Marisa loved greeting her customers and enjoyed having a good chat about their day, their holiday, their destination and their families.
As many have commented, she always made you feel like part of the family.
Marisa had a wicked sense of humour and often a cheeky grin; she was always ready to have a laugh with friends.
She was tireless and worked without complaint long and sometimes gruelling hours that a life in hospitality often demanded.
Family always came first for Marisa but work was also important.
Close friends would often note that the Vecchios were one of the closest-knit families they had ever encountered, living, working and socialising together for decades.
Friends often remarked that the friendship shared between the four Vecchios was so convivial and harmonious — a family to be envied.
Marisa was born in Spinetoli, near San Bennedetto del Tronto, Italy which made her a proud Marchigiana.
She moved to Australia with her family at the age of two.
The family came by ship and the voyage took 30 days.
During the voyage, Marisa received a polio injection which was part of the immigration program in those days.
Unfortunately, the medical staff injected her in the wrong part of her leg which almost killed her.
The illness rendered her unable to walk for a period of time and she was required to wear callipers until the age of 10.
She spent most of her childhood growing up in Myrtleford, Victoria and in true Italian style she kept much of her Italian heritage, speaking the language fluently.
Marisa's childhood was spent by the Ovens River and around the family's tobacco share-farm.
Childhood memories consisted of pockets filled with worms to catch redfin and her big brother teaching the kids to swim in the river.
Other childhood memories included the time when she was at school and a mischievous boy sitting behind her decided to cut off her long pigtail.
Marisa retaliated by scribbling ink all over his work.
Surprisingly Marisa was the one who got into trouble that day.
Another funny memory is a story about her friends putting laxative in the nuns' cake.
Marisa always claimed to be a witness to the high-jinks of childhood but never an accomplice.
During Marisa's teenage years, her family moved to Glenroy to work at Everest Food Industries.
Marisa attended school at St Columba's All Girls School in Essendon where she excelled in her studies.
She was school prefect, dux of Year 12 and received the highest HSC result in the state.
She received a scholarship to Melbourne University to study microbiology and completed her higher education.
Her early employment included a position as a researcher for Roy Morgan up until she got married.
Marisa and Sam Vecchio married in 1981 after a four-year courtship.
''Marisa has always been boss; we worked side-by-side together, spent 24/7 together for all these years,'' Sam said.
Her adventures in retail began with her sister-in-law Adele when they opened Casa Mia, a homeware shop in Brunswick.
After four years, she joined Sam in various retail and hospitality businesses, including a wholesale pasta shop.
Early on both Marisa and Sam dreamed of starting a restaurant and decided to move up north.
They went on a road trip and explored many options, until one day they were head-hunted by the Sheraton Mirage to open a restaurant in Port Douglas.
They took up the challenge with gusto.
Both their children were born in Far North Queensland and they spent many happy years there together.
The Vecchios saw many changes to that region in terms of tourism and hospitality during this time.
Sam and Marisa are regarded as seminal in getting Port Douglas recognised as a destination.
Marisa's life at this time revolved around caring for the children while also sharing shifts with Sam which allowed her the opportunity to work at the restaurant.
Marisa was always very loyal and protective of her friends and family and was affectionately known as ''Mumma Bear'' by those close to her.
Despite many serious health challenges throughout her years, Marisa remained fierce and strong and continued to enjoy work and family life.
During the recent summer, the family took a well-earned break and travelled to Italy together for five weeks, visiting many relatives and creating long lasting memories.
It is wonderful that this special family were able to have such a memorable time together before Marisa's passing.
Marisa and Sam have always created their own community wherever they decided to call home.
We are honoured they decided to call Seymour home and build such a special place for our community.
The Winery Kitchen has attracted many passionate customers in the past few years and has gone from strength to strength with Sam in the kitchen and Marisa at the helm.
The restaurant will never be the same without Marisa at its heart.
We trust Marisa is at peace now, resting from a life well lived.
Love to Sam, Alessandra, Gianni, John, Adele and the entire Vecchio and Ubaldi familia.
Please note the Winery Kitchen will be closed until further notice. The family would like to thank their loyal customers, suppliers and friends for their kind words of comfort and condolence. Funeral arrangements are in progress and will be announced shortly.
— Clare Daly and Cynthia Lim