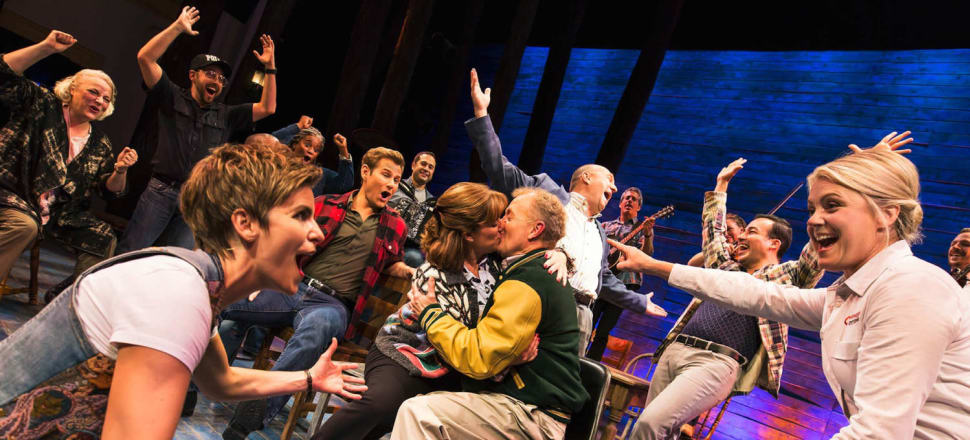 5370537724001
Senior writer and amateur thespian IVY JENSEN talks to Echuca's Emma Powell, who is turning an incredibly sad memory into an exciting opportunity on the stage with 'Come From Away'
EMMA Powell had just finished a night performance of Mamma Mia at the Princess Theatre when she first heard about the 9/11 attacks 18 years ago.
''My husband was in Sydney and my sister was babysitting my three-year-old daughter so I was picking her up and turned the radio on and heard about a plane that had crashed into the World Trade Centre,'' she said.
''I got home and put my daughter to bed and turned on the television. I remember thinking we had just been there four years earlier.
''My husband called and kept saying a plane had gone into the Pentagon. But I told him it was the World Trade Centre. Then a split-screen came up and we realised it was both.''
It's a day etched in everyone's memory.
''We thought it was World War III,'' Emma said.
''That day changed the world. That's my memory and it's a day I will never forget.''
Fast forward 18 years and Emma will again be starring in a hit musical — but this time a Tony Award-winning production based on the incredible real-life events in the wake of the September 11 tragedy.
The former Echuca resident has been cast in the groundbreaking new musical Come From Away, which tells the true story of what happened on 9/11 when 38 planes from all around the world were rerouted to Gander, a tiny, remote town in the northeastern part of Newfoundland.
For five days, about 10,000 residents from the province fed, housed and consoled about 6700 unexpected visitors.
Some opened their homes to people in need of showers, a change of clothes or a warm bed.
Others bought rounds of drinks for stir-crazy passengers at the local bar.
One local, Beulah Cooper, sat by a landline for days with a New Yorker who was waiting for any news about her firefighter son.
''Beulah is the maternal part of Gander and represents that element of Gander that welcomes you with open arms,'' said Emma, who will play Beulah.
''She has already friended me on Facebook. It's interesting playing a real person.
''I want to do her justice and really want to be true to her, but at the same time infuse it with a bit of me.''
Although the 51-year-old lives in Melbourne, Emma still considers herself a ''country girl''.
The Nhill-born mother lived in the US for three years before moving to Echuca at the age of six.
Her parents were Janet and Alan Powell. He was Echuca's first chiropractor she would lead the Australian Democrats in the Senate.
Growing up in Echuca East, Emma was active and sporty, belonging to the pony club, going water skiing and playing netball and basketball.
But she had a theatrical side too.
''When I was in primary school, I used to write little plays and assign roles to my friends and then I'd direct,'' she said.
''Then when I was in year 7, I was a munchkin in Echuca High School's Wizard of Oz.''
But her love of show business came in Melbourne later that year when her mother took her to see Oklahoma!
Emma moved to Melbourne at the age of 16 and spent a year at La Trobe University, but after a year in the US with her sister, she didn't want to return to study.
She spent seven years working in public relations, while also taking part in amateur theatre.
She was in her mid 20s and starring as Eponine in the Cheltenham Light Opera Company's production of Les Miserables when she was invited to audition for Simon Gallaher's Broadway version of The Pirates of Penzance starring Jon English, landing the job of understudy.
''I sort of fell into it really,'' she said.
''And the rest is history.''
She joined Les Mis, which toured to Singapore, Hong Kong, Korea and Cape Town before going on to perform in Mamma Mia in the original production's ensemble, then taking over the role of Rosie for the Australasian tour.
She played Hattie in Kiss Me Kate and Fruma Sarah in Fiddler on the Roof, while the past few years has seen her touring Australia in Kinky Boots as Trish and in Priscilla – Queen of the Desert as Shirley.
Being cast in Come From Away has been a dream for Emma, who described it as a show like no other.
Capturing the generosity and hospitality of the small community of Gander who invited the ''come from aways'' into their homes, it is an inspirational story of hope and humanity.
''It's full on, overwhelming, wonderful and joyful,'' she said.
''It's not like Mamma Mia or Priscilla with all the bells and whistles. This is stripped back to classic collaborative theatre.
''There's a real humanity to this show which is really moving and beautiful. But it's also very funny and the music is wonderful.''
Emma said she knew nothing about Gander or what happened there until she took on this role.
''After such an abhorrent act of terrorism, there was goodness happening elsewhere. There was a real sense of community which I understand growing up in Echuca. It brought the best out in people.''
Emma said that sense of generosity and kindness was what she hoped people would get out of seeing this musical.
''I want people to see how good we can be,'' she said. ''I hope people can relate to that and find moments where kindness and goodness appear when hate, disaster and fear are happening.''
Come From Away will start previews from July 3 before opening on July 20 at the newly refurbished Comedy Theatre in Melbourne.
■Tickets on sale comefromaway.com.au