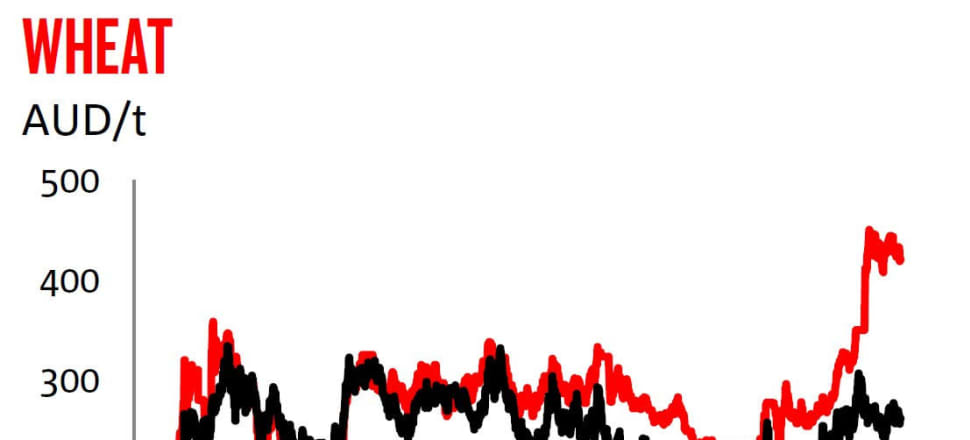 5370537724001
A tough cropping season in eastern states has seen the National Australia Bank Rural Commodities Index fall by 1.1 per cent in January.
This season may have been a ''tale of two harvests'', but NAB agribusiness economist Phin Ziebell said the hottest January nationally on record and ongoing lack of rain across most of the country had led to a tough start to 2019 for many commodities.
''The east was miserable (this cropping season), with GrainCorp taking in only 0.6million tonnes in NSW, 0.1million tonnes in Queensland and 1.4million tonnes in Victoria (with a little more to come from that state) by mid-January,'' Mr Ziebell said.
''While much of the eastern crop has stayed out of the bulk handling system this year, the overall yield picture remains fairly grim.''
Domestic supply is predicted to remain tight with prices remaining high.
''Western Australian grain is making its way east, although transport costs mean that while it has capped prices in the low-mid $400 range for now, eastern grain prices will remain high,'' the report said.
''A strong autumn break will likely dampen domestic grain demand, but we are very cautious about suggesting a price downside until late in the year.
''Planting conditions for sorghum were generally good but much of the crop cooked in record heat in January, along with hopes for strong yields. That said, sorghum is too small a crop to make much of a dent in the overall eastern states supply picture.''
NAB agribusiness customer executive Neil Findlay said it was currently a watch and wait situation for many across Victoria and NSW.
''We're at a point in the year where many people are waiting on rain and planting of a winter crop; availability of water, particularly in the Murray-Darling Basin system, is critical and water prices are tough,'' Mr Findlay said.
With the weather outlook not expected to improve, Mr Ziebell expects little relief in the coming months.
''The national outlook remains hot and mostly dry, which combined with a severe feed shortage and well below average winter harvest in eastern Australia, is causing grain prices to remain very elevated and placing downward pressure on livestock prices,'' he said.
''Autumn rain is difficult to predict, and a late break would be a key risk to winter crop yields.''